Posted on
Thu, Nov 3, 2011 : 9:59 a.m.
Finding space for a master suite in a traditional home
By Marcia Lyon
Every home today should have an owner's or parent's bedroom with a private bath.
This is the standard we have become accustom to. Gone are the days when everyone shares just one bathroom.
Having a master bedroom is important for resale; therefore creating one is an excellent investment.
PROBLEM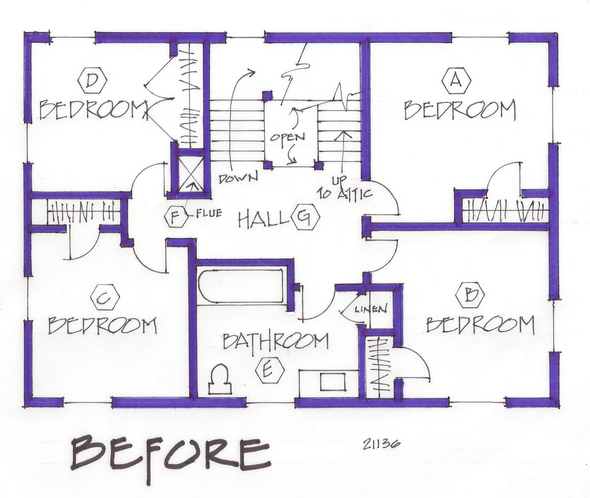 This stately 1920s home had a predictable second floor with four almost equal-sized bedrooms (A, B, C, D) and a hall bath (E). A big bulky flue (F) became unnecessary when the furnace was replaced. A spacious open stairway (G) is the focal point.
The homeowners wanted to add a bathroom and create a master bedroom. They wanted a closet large enough for two people. And lastly, they wondered how they could add a second sink in the hall bath.



SOLUTION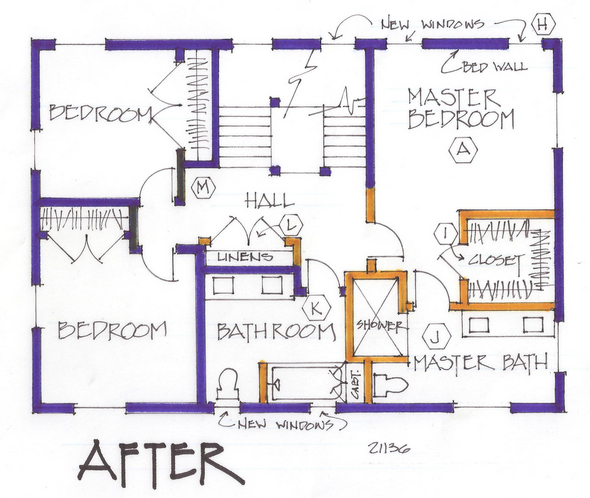 The obvious move was to sacrifice bedroom (B), and add a bathroom adjacent to the existing one. We claimed bedroom (A) for the master bedroom. We added some windows (H) to establish a bed wall. The closet (I) expanded toward the front to become a walk-in.

The master bath (J) utilizes exiting windows. We added a large tile shower, which is the fixture most adults prefer. This bath has two sinks and a toilet that is somewhat tucked. There is enough room in this bathroom to feel spacious.

The hall bathroom (E) is totally remade (K). Two sinks in a long vanity makes this bathroom work for more than one person. By relocating the bathtub, we created some privacy for the toilet. We took the linen out of the hall bath and created a large linen closet (L) in the hall.

We removed the old flue (F) and gave the space to the hallway (M) because it is important to keep an open feel in this grand hall/stairway.
Marcia Lyon is a professional remodeling designer and freelance writer, producing projects locally and several other areas across the U.S. and Canada. Her new book on remodeling design, "The Essential Planner for Home Remodeling," is available at www.creatingspaces.net. You may contact her at Marcia@creatingspaces.net or at 515-991-8880 to set up a consultation.