Posted on
Wed, Jan 19, 2011 : 6:06 a.m.
Garden Faerie: 10 things a gardener can do during the dead of winter
By Monica Milla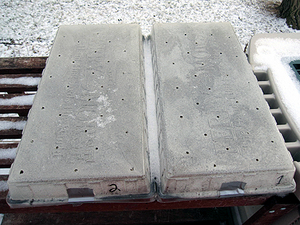 Monica Milla | Contributor
Ah, yes. Michigan. If you don't like the weather, just wait a minute and it will change. For many gardeners, winter is way too long. I personally like the down time and find lots of activities to keep me busy.
Now, don't get me wrong. I like winter. A lot. I like snow — shoveling it, playing in it, even riding my bike in it. I also welcome the break from gardening activities, at least until March, anyway.
Here are some of the things I do in the winter.
I don't put away Christmas lights in January; I switch up the colors. I have a strand of red and white lights for Valentine's Day, will have a green strand for March and a purple one for April. I really love the festive look, and I crave light on winter evenings.
I sow cat grass indoors. Cats crave the greens, and it's fun having something grow inside. Wheat and oat grass seeds don't need much light to germinate.
I winter sow, a way to start seeds (in mini containers) outside, which, with little care, will sprout as hardened off seedlings on their natural schedule in spring (yes, it really works). I'll be writing more about winter seed sowing in the coming weeks.
I attend garden talks, lectures and conferences. Michigan Gardener magazine is a great source for events around the state, and I also search arborweb.com events for key words such as garden, gardening, plants, perennials, etc. I also post gardening events on my Garden Faerie facebook page.
I look at seed catalogs, online and print versions, and decide what I'm going to add to the garden. My favorite seed sources include swapping with friends, D. Landreth Seed, Botanical Interests, Renee's Garden Seeds, Baker Creek Heirloom Seeds, Select Seeds, Seeds of Change and Monticello.
I attend seed swaps. A great way to get more seeds and pass your extra along. Project Grow and Growing Hope also host some.
I take stock of what I did in the garden last year, what worked, what didn't and what I will do differently the coming year.
I plan what new things I want to do in the garden this coming season, such as what plants to divide and move, what I'd like to add, what new patches of grass I'll convert to beds, etc.
I get caught up reading all the gardening magazines I haven't had time tp pick up since last spring.
I make things, like rain barrels, trellises, garden art, etc.
I shovel lots and lots of snow and am thankful my plants have a nice blanket of insulation that will melt into free water.
Apparently, some people also enjoy taking care of houseplants in winter. I do care for mine, but I admit I'm a bit of a houseplant "hata."
What do you do to get through winter? Leave a comment and let us know.
Monica Milla, the Garden Faerie, is a master gardener volunteer, garden speaker, garden coach and author of "Fun with Winter Seed Sowing."