Posted on
Sat, Dec 17, 2011 : 9:26 a.m.
Gifts to give to the gardener... or to yourself
By Jim and Janice Leach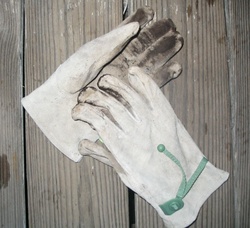 Janice Leach | Contributor
Around this time last year, I wrote a couple of posts about gifts for gardeners, here and here. I have been pondering whether I had anything new to add to those pretty exhaustive lists.
So question I put to myself then was: what garden items gave me the most use and joy this past year? What new tools did I bring to the garden that never failed to please me?
If you are still shopping (or dropping hints), these items might work for the gardener in your life.
Good gloves. Good gloves make garden work easier and more fun.
To purchase gloves for another person, you need to have a good idea what size his or her hands are or a clear understanding of the store's return policy.
I have two favorite kinds of gloves for the garden. I have a sturdy, now-well worn pair of leather gloves. These are especially nice for working with our thorny raspberries or roses.
New to me this year were plastic coated cloth gloves. I didn't think I would like these gloves at all, but several gardener friends use them. When I was perusing the garden store, I inspected these gloves, and their reasonable price led to me to try them out.
Now, I absolutely love them. They are snug but not tight. Dirt doesn't trickle down the cuff (one of my pet peeves). They've proven to be durable and, wonder upon wonder, are machine-washable. I have a light-weight pair and a heavier knit pair, and I do love them both.
Groovy garden hat. A wide brimmed hat protects a gardener's skin from getting too much sun.
I don't think of myself as a hat person, so it took the persistent prodding of a concerned partner to get me to concede that wearing a hat when working in the garden would be a wise move. Further prodding led me to try on a series of hats and make a decision within a reasonable amount of time.
All in all, I'm glad I have a hat for gardening.
Gardening hats may in scarce supply in stores this time of year. Hats are difficult to purchase for another person, even at the plentiful times. A gift certificate for a hat, either homemade or store-purchased, is the obvious work-around.
Felco pruners. Great tools are wonderful.
I do believe these are the Cadillac of pruners. I reached for these pruners over and over all summer long. They made short work of every pruning and trimming job that cropped up during the season. They stayed sharp and dependable, and the bright red handle was easy to spot and keep track of.
Sometimes one hesitates to buy the top of the line, but in this case I'm glad we did.
It's impossible to please everyone, but these are some garden tools that made my life better this year. What would you like most to give or receive?
Janice and Jim Leach tend a backyard plot in downtown Ann Arbor, where they try to grow as many vegetables and other plants as possible. For the last four years, they've published gardening tips, photos and stories at their 20 minute Garden website.