Posted on
Thu, Jan 13, 2011 : 9:21 a.m.
Garden Faerie: How climate change will affect our gardens
By Monica Milla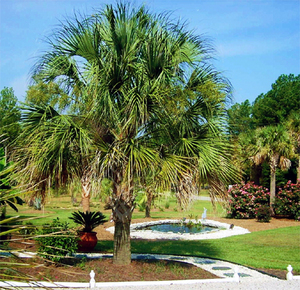 Photo copyright Majestic Palm Trees
At Monday's meeting of the
Chelsea Area Garden Club,
Tony Reznicek, curator of the
University of Michigan Herbariam
, presented "How Will Climate Change Affect Michigan's Gardens and Natural Heritage?" Even though mean temperatures are rising, we won't be growing palms or figs any time soon in Michigan. It's not about average temperatures, but about extremes.
The talk was highly informative. Even though I took copious notes, I can't possibly do each point justice (plus, I'm neither a PhD botanist nor an atmospheric scientist), so I'll simply share what I found most fascinating.
Firstly, I was intrigued by an overview of 16,000 years of plants in Michigan (since the last glacier retreated). After the melt, Michigan was essentially a gravel pit with rocky, moist soil high in minerals. Slowly ground vegetation grew and then birches and alders appeared. Soil was still gravelly and calcareous. Over time, Jack and red pines appeared. Then the northern mixed forest grew, and finally the southern deciduous forest. In the 1800s, settlers started coming and cleared a lot of the forests for farming.
Settlers also brought seeds from Europe. In 1700, before settlement, there were 1,850 species of plants in Michigan. Remember, it took those 1,850 plants 16,000 years to evolve. Today, there are 2,821 species of plants in Michigan, or nearly 1,000 more in just 300 years. Humans accelerate the rate of change.
Temperature has been increasing slowly over time on its own. Our current average temperatures are 7 degrees celcius warmer than 100,000 years ago during the Ice Age. But again, humans have accelerated that rate of change. Temperatures are 4-6 degrees C warmer today than than they were only 60 years ago.
The rate of change is accelerating due to increased levels of carbon dioxide (CO2), a greenhouse gas that lets light into our atmosphere but doesn't let the heat get back out. Average temperatures are slowly rising around the world. Spring comes earlier, the extent and length of ice cover on the Great Lakes is shorter, and extreme rainfalls may be becoming more frequent.
However, temperatures are means, and some parts of the earth may still get colder, not warmer. Also, a warming earth has more energy which can create unpredictable weather. When the rate of change is more rapid, the extremes are more extreme as well.
By 2095, Michigan will be as warm as the Ozarks are now in summer and as warm as southern Ohio is now in winter. We may think warmer average temperatures mean we can start growing more perennials with lower cold tolerances. For example, the palm Trachycarpus fortunei can survive short spells of temperatures as low as -9 degrees Fahrenheit, and Michigan's average winter temperature is 17 degrees F. But we don't plant these palms now, and we won't in the future, because we get, and will likely continue to get, several days well below -9 degrees. It's not about average temperatures, but the extremes of actual lows and highs.
Warming isn't only about temperature, it's about lack of water. Without ice cover, lakes will evaporate more quickly and plants will require more watering.
Plants with lower heat tolerances will move northward. For example, trembling aspen Populus tremuloides will move farther north, whereas sugar maple (Acer saccharum) will remain.
Plants need CO2 to live, but increased levels of CO2 act like fertilizer. Heat-tolerant plants, like weeds and invasives (poison ivy comes to mind), will flourish with this extra CO2; they will grow bigger, reproduce more, and out-compete other plants. Plants with lower heat or sun tolerance, as well as those that require moist or poor soil (such as trillium an other spring wildflowers) will respond negatively to fertilizer. They do not need extra fertilizer and, in fact, find it harmful, like overdoing on sugar. They could weaken or die out altogether.
So, overall, increased average temperatures over time will mean:


A slow shift north of more less heat-tolerant plants


An increase in weeds, native and non-native, including poison ivy


A reduction of plant diversity


Lowering of lake levels


Longer and more severe droughts


Tony recommended the following common-sense steps for dealing with these issues (now and in the future):


Reduce your own greenhouse gas emissions


Mulch heavily


Capture, store, and use rain water


Reduce the amount of lawn


Use more low-water plants


I admit I felt pleased that I've been doing all those things for a very long time. And tickled that instead of thinking of myself as cheap and lazy, I can now view myself as green and low-impact/energy-efficient!
The Chelsea Area Garden Club meets at noon on the second Monday of the month at the Chelsea First United Methodist Church. For more information, contact Chelseasweetpea1@aol.com. The Evening Primrose Garden Club meets at 7 p.m. the second Wednesday of the month at the Chelsea Railroad Depot. For more information, contact bakerm@umich.edu. Both clubs feature educational programs, garden trips, plant sales, plant exchanges, community beautification projects, and master gardener scholarships.
Monica Milla, the Garden Faerie, is a master gardener volunteer, garden speaker, garden coach and author of "Fun with Winter Seed Sowing."