Posted on
Thu, Nov 19, 2009 : 6 a.m.
Habitat for Humanity turns Ypsilanti beast into a beauty
By Janet Miller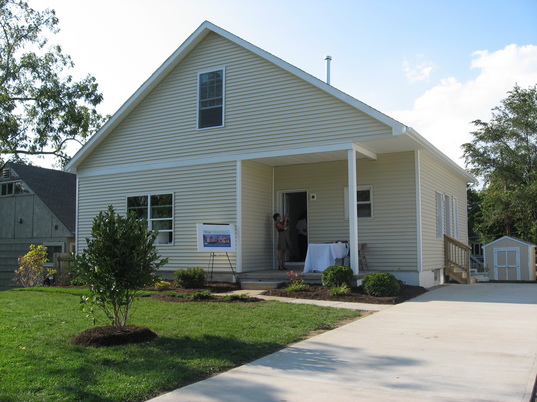 Theresa Finney Dumais has a few adjectives for the adobe-style South Congress Street house before its makeover: Eyesore. Deplorable. Crumbling.
"It was in really awful shape," she said.
The single-story, cement-block house with a flat roof looked more like commercial blight than a house. It was vacant, boarded up and foreclosed upon.
Enter Habitat for Humanity of Huron Valley and its crew of volunteers.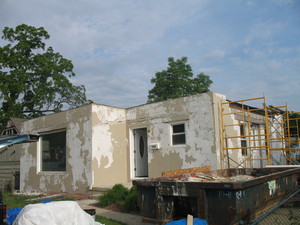 Among the tidy houses in this west Ypsilanti neighborhood, it stuck out like a sore thumb. "There was mold. And it smelled. There were holes in the walls. Things were falling off all over the place," Dumais said.
The crumbling concrete block exterior was repaired and then clad in a sunny yellow vinyl. A second floor with two bedrooms was added, taking the house from 980 square feet to a roomier 1,250 square feet .
The floors were covered with a wood laminate, purchased from the Habitat ReStore, which sells furniture, appliances, antiques and building materials. New light fixtures were installed and ceiling fans were added to keep the house cool in summer.
The banister upstairs was replaced along with new pine stairs to the second floor. The entire house was cleaned and painted.
New kitchen appliances from Whirlpool (the company donates appliances to Habitat houses nationwide) were installed in the kitchen and new countertops were added. The existing tile floors in the kitchen and downstairs bath were salvaged and cleaned.
The deck was painted and landscaping, compliments of Fraleigh Nursery, was installed.
"This house was just transformative," Dumais said.
One of the two downstairs bedrooms was turned into a dining room and the second floor addition added two bedrooms, making it a three-bedroom house.
Still, there's nothing plush.
"Habitat builds safe, decent and affordable houses," Dumais said. "We don't put in chandeliers."
There was more than just cosmetic work. Insulation was added and plumbing and electrical was replaced, Dumais said.
Volunteers from the Good News group, a consortium of six area churches that have come together to build and renovate homes for Habitat for Humanity Huron Valley, worked on the house.
Along side them was Tera Yates, sanding, chipping and painting.
Yates grew up in the neighborhood, but had always rented. When she went looking for help to lower her $950 monthly rent, she learned that she was eligible not only for the Habitat program, but that her mortgage payment would be nearly half what she paid in rent.
She is required to put in 300 hours of sweat equity, and squeezed her work in-between being a single mother, working full-time and going to school.
The local Habitat program has gone from building new homes to renovating existing ones. Before the economic downtown, it wasn't financially possible to buy and then repair existing housing stock, Dumais said. But then the bottom fell out of the housing market and scores of foreclosed houses flooded the market.
It costs about $115,000 to build a new house, said Sarah Stanton, Director of Habitat for Humanity of Huron Valley, compared to $85,000 to buy and renovate an existing one.
They been able to double the number of families they put into homes, and are on target to complete 10 houses this fiscal year, which ends in June, Dumais said.
There are about 90 Habitat houses in Washtenaw County, with most of them located in Ypsilanti and Ypsilanti Township. The organization plans to buy several Ann Arbor houses in the coming months, and now buys exclusively foreclosed houses.
Yates expects to move in before the holiday. Habitat will hold the mortgage and she will make her monthly payments to them.
"I love having a second full bath. I love that you can walk out from the basement. I love my neighbors, it means everything to live next to good people," she said. "But most of all, I love my mortgage payment."
.