Posted on
Thu, Oct 6, 2011 : 10:34 a.m.
Habitat for Humanity's ReStore goes upscale with new, second location on Jackson Road
By Janet Miller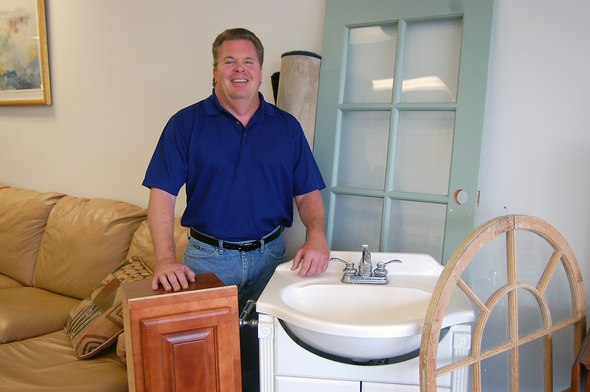 Janet Miller | For AnnArbor.com
Habitat for Humanity
is known for building houses.
Now it is filling them.
When it opened its ReStore five years ago, Habitat for Humanity of Huron Valley began offering the general public a chance to buy building materials (everything from doors and windows to toilets), appliances and furniture at deep-discount prices.
Now, it is going upscale.
A second ReStore opened Oct. 1 at 3909 Jackson Road, Scio Township, in the Jackson Centre shopping center. But this one is filled with antiques and collectibles, from a birdseye maple dining room set to a late 19th Century dry sink with copper basin. "It's more upscale with furniture, antiques, home décor and lighting," said Katie Sharp, store manager.
The Ann Arbor ReStore has seen an increase in donations each year since it opened in 2006. Entire estates are now being donated, with an increase in more valuable antiques. Area furniture stores are encouraging their customers to donate their used furniture to the ReStore.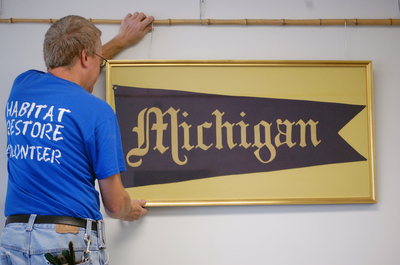 Janet Miller | For AnnArbor.com
Even the rich and famous are on board. Detroit Tigers third baseman Brandon Inge donated a dining room set, said Vic Whipple, ReStore director.
While these items have been displayed in the ReStore warehouse at 170 Aprill Dr., off of Jackson Road, it's hard to showcase them in such a rambling, open space, Whipple, said. "Our unique products tended to get lost in such a large space."
They also wanted to draw attention to the warehouse, which cannot be seen from busy Jackson Road.
"We wanted to create visibility for the warehouse," Whipple said. "A storefront on Jackson Road should help."
The ReStore showroom has a fraction of the warehouse space -- 1,100 square feet compared to 16,000 at the cavernous warehouse -- and looks more like a cozy antique shop.
The idea, Whipple said, was to pull shoppers in with the showroom, and steer them into the warehouse, which is a few hundred feet behind the store. He hopes to see sales increase 50 percent with the storefront.
Customers already include college students, contractors and remodelers, Habitat homeowners, moviemakers and home stagers. Whipple hopes the showroom will broaden the customer base even more.
The showroom will include what Whipple calls a "Whitman's Sampler" of items that can be found in the warehouse. While the new store is mostly filled with antiques, furniture and art work, there's also some higher end building materials, from windows to cabinets to bathroom vanities.
"We partner with corporations like Big George's, Lowes and Art Van and a lot of time they will give us overstock or discontinued stock," said Whipple. "Art Van refers all their customers to us who may have recently purchased [new furniture] and tells them that Habitat will come and pick up their old set for free and it's tax deductible. Everyone wins."
While the showroom is more upscale, prices remain a deal. ReStore prices are generally 35 to 50 percent lower than retail, Whipple said.
The birdseye maple dining room table with matching buffet and black enamel chairs is priced at $800. A late 1800s medium oak dry sink with copper basin was appraised at $900 and is priced at $350. An authentic ceramic butter churn with an oak top was appraised at $200 but is priced at $50.
The money raised at ReStore is pumped back into the Habitat for Humanity of Huron Valley efforts to provide affordable homeownership to low-income families. Homeowners put 300 hours of "sweat equity" into their homes, make a down payment and have an interest-free mortgage with payments no more than 30 percent of their income.
ReStore hours are Monday-Saturday: 10 a.m.-6 p.m. Sunday: 11 a.m.-3 p.m.
ReStore has also just launched a service where they will recycle all electronics equipment, including computers TVs, radios and PDAs. There is no charge, but they must be dropped off at the warehouse location at 170 Aprill Dr.
ReStore, which will be celebrating its fifth anniversary on Oct. 22 with a storewide sale at both locations, has been a successful endeavor for the local organization.
"Most of the annual revenue (from the store) could equate to completely funding the building of three homes in Washtenaw County," said Whipple, who says the organization built 13 homes last year and are slated to do 15 this year.
The organization maintains a light staff to manage the stores which is otherwise run by volunteers.