Posted on
Sat, Aug 20, 2011 : 11:49 a.m.
Have garden, will travel
By Jim and Janice Leach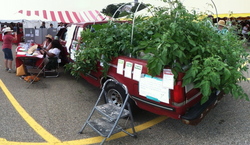 Jim Leach | Contributor
A
vegetable garden
doesn't have to take up the whole yard — as evidenced by
Growing Hope
's Clifford the Truck Farm.
You may have seen him at events around Ypsilanti or Ann Arbor. We caught up with Clifford at the MakerFaire last month at the Henry Ford Museum in Dearborn.
Clifford reminds us that, with a bit of planning and ingenuity, a small garden can produce a load of food!
Janice and Jim Leach have been gardening together for close to 30 years. They tend a backyard plot in downtown Ann Arbor, where they try to grow as many vegetables and other plants as possible. For the last four years, they've published gardening tips, photos and stories at their 20 Minute Garden website.