Posted on
Tue, Oct 12, 2010 : 3:01 p.m.
Garden Faerie: Dahlias add great fall color to your garden
By Monica Milla
Dahlias are some of my favorite late-season bloomers. The flowers come in many colors, forms, and sizes (from 10 inches to 6 feet tall).
Dahlias bloom from late summer through frost and add a bright burst of color into the fall landscape. Whether you treat them as annuals or dig them up and store them over the winter, I encourage you to give dahlias a try.

Monica Milla | Contributor
A couple of years ago I had the opportunity to visit Valentine Gardens in Whitmore Lake where Tom and Lil Rumple grow 100 varieties of dahlias; with a total of 700 dahlia plants. It was amazing seeing so many varieties of dahlias in one location.
I tend to prefer the kind of crazier-looking dahlias, like the spiky, bright "Hollyhill Spiderwoman."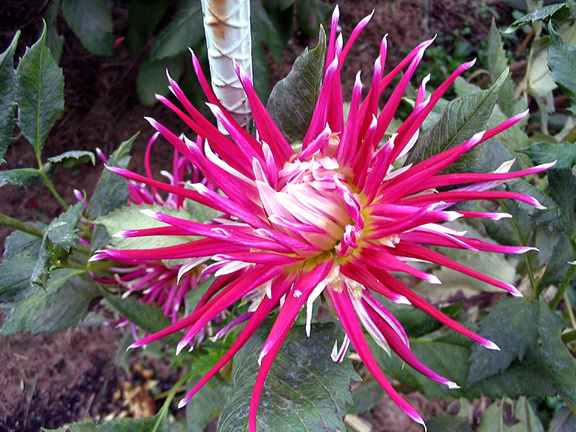 Monica Milla | Contributor
I also love anything orange, like this "Stella R." If you look closely, you'll see the colors are actually pink and yellow, but from a distance the petals look orange.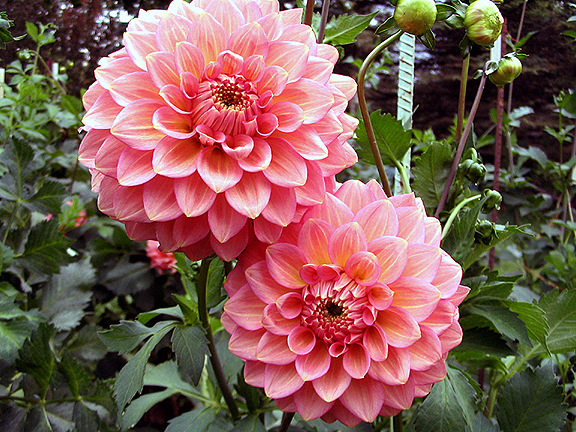 Monica Milla | Contributor
The ideal soil for dahlias contains 25 percent organic material mixed into sandy loam. If your soil tends to be more clayey, you can amend it with some peat or compost so it drains better. (Do not add sand. Sand + clay = cement. I've noticed my own dahlias haven't minded the clay, so I haven't amended.) The dahlia's shallow root system likes to be kept moist, so Tom uses grass clippings (which are mostly water and decompose quickly) and leaves as mulch.
Dahlias are tender perennials with root tubers. They can overwinter in warmer climates, but not in Michigan. You either need to dig them up and store them over the winter, or view them as annuals.
Not surprisingly, Tom has developed a system for digging up and storing his 700 plants, and most of his techniques work on the smaller scale as well. Whenever the first frost kills the dahlia leaves, Tom cuts off the stalks to about 6 inches. He then uses a garden potato fork to gently nudge the tubers out of the ground. He pulls the tubers out by the remaining stalk, using it as a handle.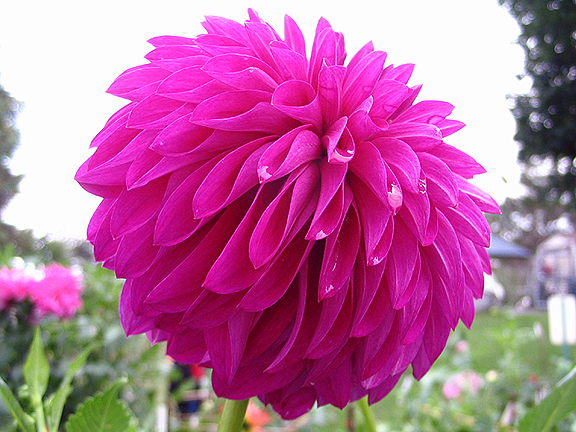 Monica Milla | Contributor
He then hoses off the clumps, and lets them air dry, out of the sun, for a week. He says the tubers contain 90 percent moisture when they are dug up, and they should only contain about 50 percent moisture for winter storage. After the week of air drying, he trims the finer hair roots off the clump, cuts the ends off any very long tubers, and cuts the stalk down flush with the stump. If the tubers are very big, you can divide them at this point as well.
He then puts two to four clumps of tubers in a plastic grocery bag and covers them with vermiculite. He also labels the tubers! He does not tie the bags, and stores them inside a cardboard box with a lid. He stores the boxes in a special area of his basement where the temperature is below 50 but above freezing. This temperature range is ideal, Tom says, but it's difficult for most people to achieve: basements tend to be too warm and garages tend to be too cold. Refrigerators are too moist and also not a good option.
Monica Milla | Contributor
In early summer, say June 1, you can plant out you. Plant a hole about 12 inches deep and add the amended soil mix about 10 inches deep. Set the dahlia tuber with the stalk (or eye) side up on the soil mix and then cover with no more than two inches of soil. Water thoroughly until the plant grows, and then water thoroughly about once a week, or more if it's quite hot. Tom uses rebar stakes and jute twine to stake his plants.
As the plant grows, he adjusts the twine accordingly. He does not cut back the plant at any time. Another dahlia grower mentioned that when the plant gets four to five sets of leaves, she pinches out the center stalk, which will create more branches and therefore more flowers.
For very tall or large blooms, like the beautiful burgundy "Spartacus" below, Tom uses plastic hair clips to attach the stalk to the stake. (That's where I learned the secret of hair clips as plant ties!)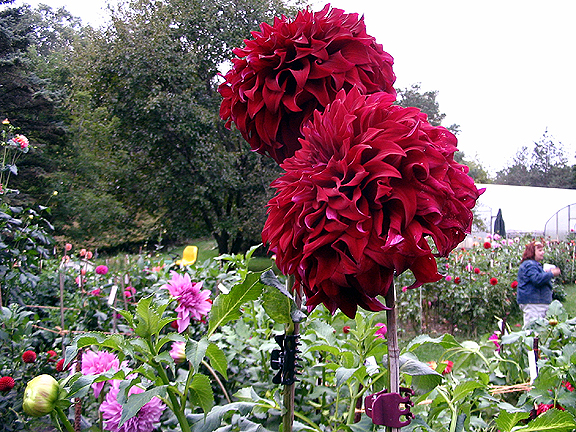 Monica Milla | Contributor
Another thing I learned is that dahlias are freaks! They are true to form from the tuber, but not the seed. This means that creating new varieties is essentially guess work, taking at least four years. Normally growers cross pollinate plants to get new varieties, combining a color characteristic of one plant, say, with a hardiness level of another plant. With dahlias, this does not work, as a plant grown from seed will not look like its parent plant. Not only that, but each seed of one dahlia bloom could produce a different type of new plant!
Also check out this video on how to divide your tubers after digging out and before storing.
Monica Milla, the Garden Faerie, is a master gardener volunteer, garden speaker, garden coach and author of "Fun with Winter Seed Sowing."