Posted on
Tue, Mar 20, 2012 : 12:03 a.m.
Hepatica is a native plant blooming extremely early - cool or scary?
By Rick Meader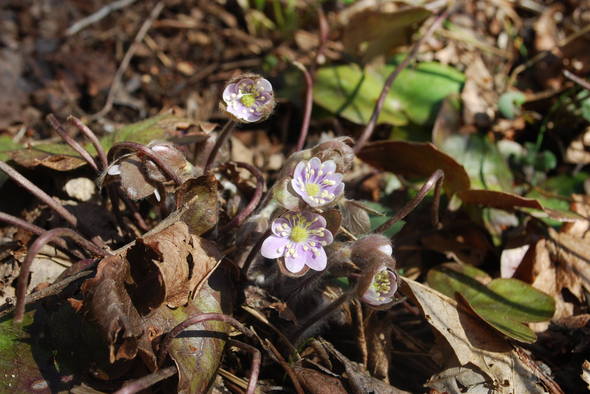 Rick Meader | Contributor
On Saturday, in my sunny backyard, I did some yardwork including cutting down last year's growth. Normally, about now, I'm cursing the gray, late-starting spring that we know so well in Michigan. This time, I was in my shorts and not the least bit chilly. In fact, if you'd looked closely, you might have detected a slight glisten on my furrowed brow.
Anyway, I looked closely at the ground and found two native plants actually blooming — a bloodroot (Sanguinaria canadensis) and a round-lobed hepatica (Hepatica nobilis var. obtusa)! Yesterday, as I typed on my deck (in shorts), I noticed that my spicebush (Lindera benzoin) was beginning to bloom. I'm not altogether certain that this is a good thing in terms of Earth's climate, but I'm glad to see that they survived the winter and are carrying on their living ways.
I've mentioned both Bloodroot and Spicebush in previous AnnArbor.com entries, but we haven't talked much about hepatica before, so let's get to it.
Hepatica is a small plant in the buttercup family, with leathery three-lobed leaves that are persistent through the winter, in a wrinkled, brownish-green condition. In the spring, before the leaves become a healthy green again, the dainty blue or white, or lavender flowers emerge on hairy stalks.
The flowers are not large at all, perhaps reaching half an inch in diameter or a bit larger, but if you get close, they're remarkably pretty, detailed flowers; look in the daytime. because they close up at night. Also, like bloodroot, they're one of the earlier native bloomers in the spring.
As the spring moves along, the leaves catch up to the flowers and form a thick clump reaching six to 12 inches in height. Although I haven't paid close enough attention to verify this, one source I read did mention that they bloom for a long time (like a couple of months). It prefers the light shade of an open, dry, deciduous forest and will burn if it gets too much sun.
In his book Siftings, the noted landscape architect Jens Jensen talked of its association with large trees: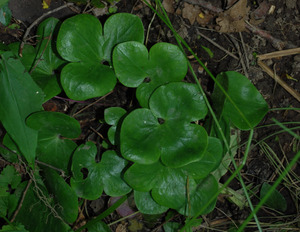 Rick Meader | Contributor
"One wonders at the close relationship — let us call it friendship — of the lovely hepatica growing close to the roots of a century old maple or oak, protected by the friendly arms of the sturdy giant which offers it shelter and warmth in the winter and cooling shade in the summer. One marvels at the unity and harmony of such companionship and the fitness of these plants in relationship to each other."
If you have read anything about this plant before, you may have learned its scientific name as Hepatica americana. Well, as people keep studying and dissecting, the powers that be have decided that round-lobed hepatica and sharp-lobed hepatica (formerly known as Hepatica acutifolia), which has more triangular-shaped lobes, are the same species with the different shaped plants being a variant of the species.
I don't know, but apparently the two live in slightly different habitats, but have been known to hybridize. In any case, it's a really neat plant. Also, both are native to most of eastern North America and most of the great state of Michigan.
Another thing that is interesting about hepatica is its genus name, Hepatica. Hepar is the Greek name for liver. Hepatica, as well as Boneset (Eupatorium perfoliatum), got their common name as part of the Doctrine of Signatures, which held that plants had medicinal qualities related to their appearance.
Hepatica is also found in Europe, and got its common name because it was felt that the leaves resembled the human liver and could be used to heal liver ailments. Boneset's joined leaves made some believe that it had healing powers for broken bones. Neither was true, but it helped create some great names.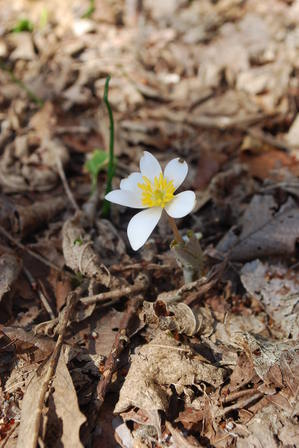 Rick Meader | Contributor
Usually I talk about plants which are available in local native plant nurseries. In this case, Hepatica is not. I got mine from plant rescues. So, in this case, if you're lucky enough to find one or two plants on a plant rescue, congratulations.
Make sure you plant it at the base of a large oak or maple where it can form a long-lasting friendship in its shade and shelter. If you don't luck out, just enjoy their beauty and uniqueness if you find one on a nature walk. If you want to read some other interesting accounts about it, here are a couple of websites that discuss hepatica:
http://www.bedfordaudubon.org/seasons/spring/hepatica01.html
http://www.sierrapotomac.org/W_Needham/Hepatica_040314.htm
So, I suppose we can start our account of what's blooming in Rick's yard. Aside from hepatica, bloodroot and spicebush, I also have a large number of violets showing a variety of whites and purples. I'm actually hoping, in a very warped way, that much cooler weather returns, so I don't have to report black-eyed Susans blooming in May.
Enjoy the warmth while it lasts, and enjoy nature everyone!
Rick is a local landscape architect with a special interest in all things natural, including creating designs that include a lot of native plants (and the critters they support). You can contact him at yourland1824@gmail.com.