Ann Arbor Native
home & garden:

Local high school colors could be painted by native plants

Posted on Sun, Sep 25, 2011 : 11:47 p.m.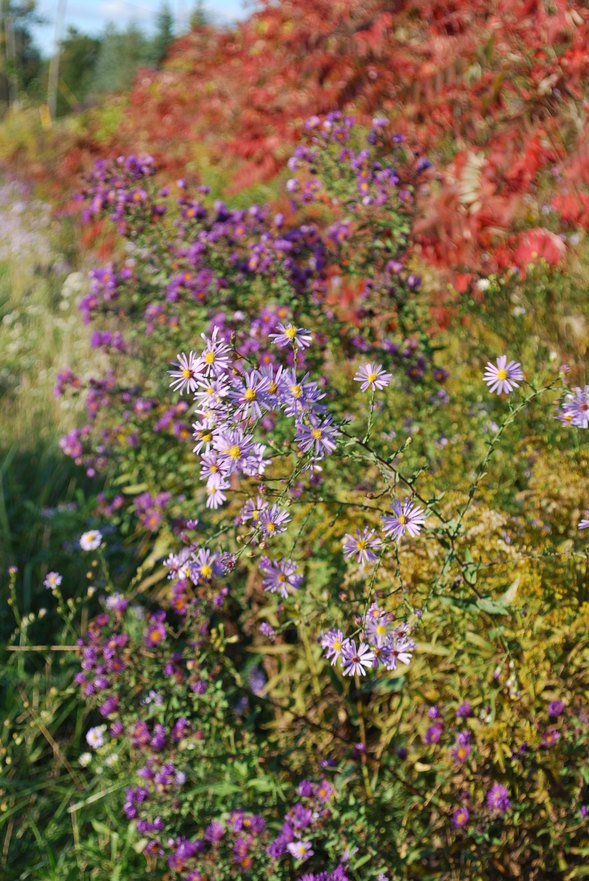 Rick Meader | Contributor
Last year, I wrote about possible plant combinations you could use to show your school spirit (if you were a Michigan Wolverine fan). As many of you out there may also be big fans of an area high school in Washtenaw County, I thought I would take an entry to suggest some native plants you could use to create a pocket garden that features your favorite high school colors. High schools themselves could also plant some in the front gardens and probably attract some bees, butterflies or birds to boot. So, without further ado, let's get planting.
Ann Arbor Huron High School - As a River Rat, I always appreciated how nicely the fields of lawn and dandelions across the city screamed their support for the River Rats, whose school colors are forest green and old gold. Now that I have a greater appreciation for native plants, I appreciate the bright green and golds of goldenrods across the area. If you have a sunny spot, go with showy goldenrod (Solidago speciosa) or stiff goldenrod (Oligoneuron rigidum). Shadier spots can use Zigzag goldenrod (Solidago flexicaulis) or Bluestem goldenrod (Solidago caesia) to cheer on the Rats.
Ann Arbor Pioneer - Fall is a great season to be a Pioneer, as the deep purple of New England Aster (Symphyotrichum novae-angliae) or Ironweed (Vernonia missurica) and the bright whites of Heath aster (Aster ericoides) (in drier spots) Flat-top aster (Aster umbellatus) or Boneset (Eupatorium perfoliatum) (in wetter spots) can be found all across the area's sunny spots, especially if they're damp.
In a shadier area, you could go with White snakeroot (Eupatorium rugosum) for the whites, and perhaps Heart-leaf aster (Symphyotrichum cordifolium) or Short's Aster (Symphyotrichum shortii) for a lighter shade of purple (although I have had good success with both New England Aster and Ironweed in a partly shaded setting). Asters are also favorites for a variety of bees and butterflies that will add some faunal activity to your garden.
Ann Arbor Skyline - Fall is also quite supportive of Ann Arbor's newest high school, as Sky Blue aster (Aster oolentangiensis) combines with Heath or Flat-top aster to show the school colors. You can see these flowers along a lot of sunny country roads these days.
Chelsea - Like the Wolverine, the Bulldogs' favorite colors are blue and gold. Deep blues are hard to come by in the native plant world of Michigan, but if you're willing to go with the lighter blues of the asters mentioned above, or smooth aster (Symphyotrichum leave), and some of the goldenrods we also talked about above, you can show off your dog house.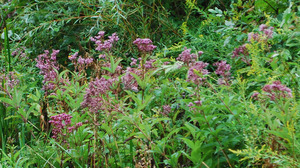 Rick Meader|Contributor
Dexter - The Dreadnaughts fight their foes in maroon and gold. As discussed above, goldenrods can provide some great gold colors, but maroon could take some work. We could cheat, and use Autumn Joy Sedum or a chrysanthemum, and those would both be good, non-native selections to provide some maroon. But, as this is a native plant blog, let's stretch it a bit and plant Joe Pye Weed (Eupatorium maculatum or Eupatorium purpureum). It's not a deep maroon, but is maroon-esque, and butterflies love the nectar.
Manchester -While I hate to take the easy way out, the Flying Dutchmen's school colors are the same as Dexter's, so please see above.
Whitmore Lake - The Trojans get fired up in red and white. In the fall, you could fire up your yard with a Sumac (Staghorn, Smooth or Winged - Rhus typhina, R. glabra or R. copallina, respectively) whose leaves turn fiery red in the fall and put some Heath or Calico aster (Symphyotrichum lateriflorum) in front of it to show your team's colors in the fall, or plant some Cardinal flower (Lobelia cardinalis) and Mountain Mint (Pycnanthemum tenuifolium) in a sunny wet space for some Trojan colors in the summer.
Ypsilanti - The Phoenix faithful cheer on their teams decked out in purple and gold and can show their team spirit with a combination of New England Aster (whose flowers themselves are purple with a gold center) and a Showy Goldenrod or Riddells Goldenrod (Oligoneuron riddellii) for a wetter spot. These plants all have very vibrant colors and a large bed of them will shout out your support loud and clear. Don't forget to chop the aster back to about one and a half to two feet tall in June for a shorter, bushier display in the fall.
I apologize for not listing the private schools in the area, which all have plenty of school spirit. Tell me what your school colors are, and I'll try to suggest some colorful plants for them in a future entry.
This week, blooming in my yard are Heartleaf aster, Calico aster, Smooth aster, New England aster, Bluestem goldenrod, Zigzag goldenrod, Canada goldenrod, White snakeroot, Brown-eyed Susan, Green-headed Coneflower and Tall coreopsis. The berries and seedheads from two weeks ago are still hanging on as well. The days are getting shorter, but the colors are getting stronger, so get out and enjoy nature, everyone!
Rick is a local landscape architect with a special interest in all things natural, including creating designs that include a lot of native plants (and the critters they support). You can contact him at yourland1824@gmail.com.