Posted on
Tue, Sep 28, 2010 : 3:44 p.m.
Chilis rellenos made with Corno di Toro peppers
By Jim and Janice Leach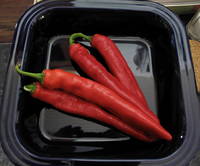 Janice Leach | Contributor
One enduring characteristic of Jim is his love of hot peppers. Each year in the garden, we plant some old favorites and some new experiments. Jalapenos are standard, but new this year was the corno di toro, the bull's horn peppers. We were told that they were sweet red peppers. My heat tolerance has increased over years of exposure to eating peppers, but I would call the corno di toro a "sweet, but slightly hot, red pepper."
All of our pepper plants grew quite tall this summer. They really needed staking to keep the plants upright and the many peppers themselves off the ground. Growing hot peppers is usually easy because they do not seem to have a lot of enemies. The neighborhood squirrels and the skunk who sometimes take a sample taste of low-hanging tomatoes or eggplant do not bother the hot peppers at all. That's true for most insects as well.
One result of growing a lot of peppers is needing to find ways to eat them. We adore salsa, but we grow enough peppers to make gallons of salsa, and, if we are not careful, the salsa will be too hot for most mortals to enjoy.
At a used book store some years ago, we picked up Hot and Spicy and Meatless in two volumes by Dave DeWitt, Mary Jane Wilan, and Melissa T. Stock. From this book, we learned to make Chili Rellenos Casserole. It's a simplified version of stuffed chilis that is delicious and not difficult, as well as not being deep-fried. This year, since we did not grow the poblano peppers traditionally used in chili rellenos, I decided to experiment with our corno di toro peppers to see if they would make a suitable pepper for the dish, and I was very happy with the results. Again, the casserole is a little spicy on my personal scale of spicy and does not fall into the category of "too hot to enjoy." Here's the recipe as well as tips on roasting peppers at home.
Roasting Peppers
Preheat the broiler. Meanwhile, wash and dry off peppers. Place them on a cookie sheet and under the broiler. Hover nearby. In 2-3 minutes, check to see if pepper skin is starting to char slightly on the top. If so, turn peppers to achieve a slight char on 3 or 4 sides, depending on the shape and cooperation of your peppers. Move around and reorganize peppers on the tray to get even results.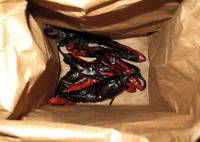 Janice Leach | Contributor
Note:
if you are working with hot peppers or have sensitive skin, you may wish to wear gloves.
Then pop the hot peppers into a medium-sized paper bag and roll the edge down. Let peppers steam inside and cool off for 20 minutes or so. When peppers are cool enough to handle, remove them from the bag.
Janice Leach | Contributor
Gently roll the pepper skin between your fingers; you'll feel the papery outside skin separate from the inner wall. Loosen and remove the skin. Then carefully pull off the stem and slit the pepper down one side. Lay the pepper flat on a board and open the sides to make a single, flat layer. Use a spoon to scoop out the seeds and any white membrane. Another way to remove the seeds is to hold the pepper under slow-running water; I find it a little hard to hold onto the slippery pepper and slide out the seeds at the same time. Either way, your goal is an intact pepper without any skins, seeds or breaks-- as much as possible anyway-- and handling the peppers gently is the key.
If you have 7 or 8 prepared peppers, try the recipe below.
Chili Rellenos Casserole
Ingredients: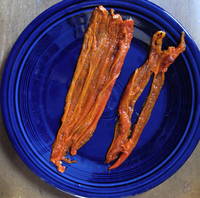 Janice Leach | Contributor
2 tablespoons vegetable oil
1 small onion, chopped
2 cloves garlic, minced
7 corno di toro peppers or poblano peppers, roasted, peeled, stems removed
1/2 pound queso fresco cheese
1 cup grated cheddar cheese
3 eggs
1/4 cup flour
3/4 cup milk
1/4 teaspoon salt
Directions:
1. Sauté the onion and garlic in the oil until soft, about 4 minutes. Remove from the heat and set aside.
2. In a greased 8" x 8" casserole dish, place a layer of chilis, side by side, then a layer of crumbled queso fresco cheese, then another layer of chilis. Sprinkle the cheddar cheese on top.
3. Beat the eggs with the flour until smooth. Add the milk, salt, and onion mixture; mix well. Carefully pour this mixture over the chilis.
4. Bake uncovered for 35 minutes at 350 degrees or until a knife inserted in the custard top comes out clean and the casserole is lightly browned. Remove from the oven and let the casserole cool for 5- 10 minutes before cutting it with a very sharp knife.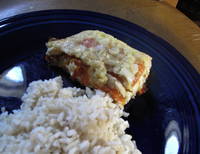 Janice Leach | Contributor
This recipe makes a pretty and tasty dish. The custard tempers mildly hot peppers, and chili rellenos casserole will warm you up on cool fall days.
Janice and Jim Leach garden a backyard plot in downtown Ann Arbor and tend the web site 20 Minute Garden<.