Posted on
Thu, Apr 15, 2010 : 6 a.m.
Construction class for women helps build skills and confidence
By Renee Tellez
Having grown up on a farm, I'm no stranger to tools or doing my own repair work around the house. I've replaced the heat element in my dryer, shingled the patio roof on my house two years ago, and recently replaced a ceiling fan.
Even though I consider myself quite handy -- a "Jill of all trades" you might say -- I've never actually had any formal training. Reading and watching "how-to" articles or videos is not the same as getting actual hands-on training.
So this year, I decided to take the class,
Home Repairs & Remodeling for Women
, through
Washtenaw Community College's LifeLong Learning
program. The 16-week class is offered once a year during the winter semester.
It's taught by WCC instructor Cristy Lindemann, who's been working in the construction field nearly 20 years and teaching at Washtenaw Community College for seven years.

Why take a construction course? What better time to learn to do things yourself, than during hard economic times! People are bringing home less and trying to save more; and I'm no different.
Back in 2007, my husband and I bought a house that was built in 1900. The home had lots of charm, a ton of room and a great price tag; too bad the former owners didn't believe in much upkeep. Besides saving money, I also like to do things myself.
Initially the price of the class ($394) seemed a little steep; but the first time you do the work yourself, you've recouped the cost. Not only that, but the feeling of pride you'll acquire is priceless. The class does requires everyone to supply a hand-full of their own tools (tool belt, hammer, tape measure, utility knife, speed square, 4-in-1 screwdriver and ear protection), but I'm sure most people already own a few of those items.
The first class is orientation day, just like every other class. The instructor talks about her experience, what tools will be used, safety, and everything you could ever want to know about wood. Even though she already had a schedule in mind, everyone had input on what they wanted to learn in the class. Each week, the class starts out in the classroom, but the majority of the time is spent out in the work area of the Henry S. Landau Design & Construction Training Center.
Besides the ins and outs of wood, here's all the other things I've learned in class:
Believe it or not, most of us don't know the correct way to swing a hammer. After nailing 50+ (very long nails), you either learned or your arm felt as if it would fall off. Removing nails is something else we all did wrong. There's a twisting technique, that works quite well.



Even though the idea of using power tools is pretty exciting, nobody got to just jump in and fire up a circular saw. There's a whole list of safety inspections that should be checked off before the tool even gets plugged in.


After all the hammering and cutting exercises, you're given an instruction sheet for the very first project. Everyone built a pine toolbox that they could take home. I think mine turned out pretty good!


Framing came next - we talked about plates, corners, studs, kings, trimmers, headers and sills - all the pieces that make up the framing. Then we learned about load, load-bearing, codes, and permits. Did you know that the State of Michigan requires a permit for any work that's $600 and up? You better believe it.


After learning all the ins-and-outs of wall construction, hiring a contractor was also discussed and how to avoid headaches down the road. That's important if you just can't or don't want to do the work yourself.



Next we learned about drywall; the types, tools and how to install it. I think what surprised me the most was that just one 10- x 4-foot, 1/2-inch sheet weighed 80 pounds. So much for doing that job alone! We also learned the technique for repairs; and come to find out I'd been using the patch product that is not recommended. What are the odds?


After drywall, comes primer and paint. We learned about lead paint safety, V.O.C. (Volatile organic compounds), and the M.S.D.S. (Material Safety Data Sheets). Most people have seen the different paint choices, but do you know what to use and when? I thought I did, but found out that I really didn't have a clue. Plus, we were shown what tools to use, getting the space ready and the proper procedure to paint. I swear the instructor must have seen me paint before, because everything they said not to do, I did. At least I know better now.


Now that the class knew all the "basics", we moved on to windows and doors. What's best, what's affordable and how to replace and install. Besides getting the hands-on experience, we were pointed to a few handy websites: This Old House is very helpful.


The last items on the agenda are flooring, plumbing and electric. I actually plan on using my new flooring skills in the next few months. Keep your fingers crossed!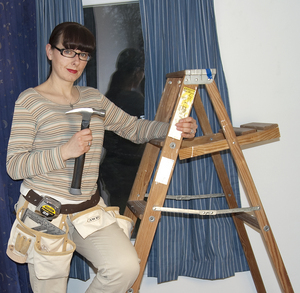 Besides learning a ton of new skills; the confidence obtained and the friendships made exceed any price they charge. This is one class I'll truly be sad to see end.
So to all you ladies out there; don't be shy, you can do it, and you don't always need a man to do all the work! Even if you don't want to get your hands dirty, at least you'll know what they're talking about on Holmes on Homes.

---
Just so you fellas don't feel left out, WCC's LifeLong Learning offers a great variety of other classes that are open to all, such as:
Bathroom Remodeling
Concrete Fundamentals
Deck Care & Repair
Basements
Plumbing 101
More
When she's not busy pounding nails, Renee Tellez works on the Entertainment Desk at AnnArbor.com. You may contact her at reneetellez@annarbor.com.