Posted on
Tue, Dec 6, 2011 : 6 a.m.
Learning how to grow potatoes in buckets - one season at a time
By Jim and Janice Leach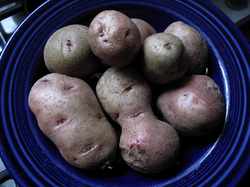 Janice Leach | Contributor
Gardening
gives a person the chance to learn from his or her mistakes. A gardener who keeps notes or at least pays attention has the chance to do things better the next season.
That belief motivated me to give growing potatoes in buckets another chance. Given my lack of success in 2010, I had lots of room for improvement.
This summer, I was better prepared. I cut the seed potatoes into sections with at least two eyes per piece. The pieces were then left to callous over for a day or two before planting. This time, all of the five-gallon buckets I planned to use had pre-drilled drainage holes in the bottoms so they were ready to go. I had a pile of compost, leaves, and soil to mix together on planting day. In comparison to last year, I was all set.
We planted the potatoes in early May and kept an eye on them to make sure they had enough water. It's especially important to monitor the dampness of soil for plants growing in containers. Potatoes don't like to dry out, but it's also important that they don't get over-watered or allowed to be soggy.
Another advantage to growing potatoes in containers was that we could move the containers around the garden. We had them in an empty bed early on. Later in the summer, we moved the containers to spots in between asparagus plants in a different bed.
When the foliage on the potatoes reached four to six inches, we added more compost and straw to to the buckets.
This year, we harvested almost two pounds of potatoes, and our harvest is significantly better than last year.
That success gives me hope for the future. If we can double our harvest next year too, we'll be approaching the normal range!
My theory is that I may have planted too many potatoes per pot and so crowded the plants. Next year, I'll plant fewer seed potatoes per pot and see if that helps.
I'm not ready to give up on growing potatoes in containers yet. For one thing, it's extremely convenient for harvesting, since we basically tipped over the buckets and sorted out the completely whole, completely undamaged potatoes. No potatoes lost or left behind in the ground. None were chopped by miss-digs with the shovel.
For next year, I'm a little tempted to set up an experiment and compare potatoes planted in the ground with potatoes grown in buckets. Planting potatoes in buckets is very easy and very neat, so next year, we'll do it again.
Janice and Jim Leach tend a backyard plot in downtown Ann Arbor, where they try to grow as many vegetables and other plants as possible. For the last four years, they've published gardening tips, photos and stories at their 20 Minute Garden website.