Posted on
Fri, Jul 8, 2011 : 6 a.m.
Make sure you have the right tools to replace a torn patio door screen
By Keith A. Paul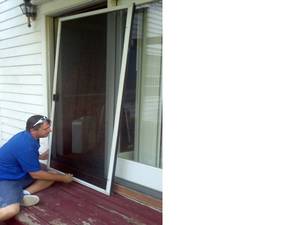 Photo by: J. Kawula
Hi Keith, I have a badly torn doorwall screen from my nine-pound dog who keeps scratching it up. I am concerned if I replace it she'll do the same thing again. Is there anything I can do to keep a nice screen door?

—Shelia M., Ypsilanti
Hi Shelia,
Fortunately, replacing the screen on a patio door is a relatively simple project. As with most home improvement projects, all you need are the right tools, (and a good column from a great news source, like annarbor.com). Also, there have been several new products on the market that will help extend the life of your screen, so you won't be replacing it on a yearly basis.
The tools you will need are an equal size tear-resistant replacement screen, spline (a long thin rubber rope holding the screen into the door frame), a spline roller and a utility knife.
First remove the existing spline and screen from the existing door frame. Start by prying up the existing spline with a utility knife. This will allow you to grab hold of it and pull it up while removing it from the frame. This is followed by removing the screen. Be careful not to bend the door frame, as it can be easy to do.
Next, roll out the new screen over the frame. Do not cut the screen at this point. On a short portion of the door frame, use the roller with the smooth end to roll the new screen into the frame.
Then take the new spline and roll it along the edges where it will be inserted by using the grooved end of the spline roller, pressing and rolling in the spline, until you have the entire perimeter done. Also during this process, pull the screen tight to ensure a stretched, even fit.
Next cut away the excess screen by using an utility knife and cutting on the outside of the spline. Use patience and caution; I was in a hurry once, and I slipped, cutting the spline and a 12-inch gap in the new screen and had to, of course, redo the entire project. Isn't experience the best teacher?
A couple of tips. There are several tear-resistant screens on the market, and some claim to be tear proof. Because you have a dog in your home, be sure to highly consider these products.
Also, I have installed many pet entrance screen doors. This is a magnetic pet door installed within the screen itself. This allows your pet to enter and exit with ease and helps prevent scratches.

Photo by: BestWindowScreen.com
Paul is a State of Michigan Licensed Builder. Paul serves as President and founding member of Nationally franchised HandyPro Handyman Service, servicing Washtenaw, Wayne and Oakland Counties. www.handypro.com. Listen to Paul every Saturday at 11 a.m. on "It's Your Business, Make It Happen" WAAM Talk 1600AM. Email questions or comments to kpaul@handypro.com.