Posted on
Fri, May 11, 2012 : 6 a.m.
Increase your curb appeal with a brick paver makeover
By Keith A. Paul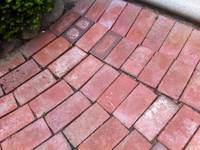 Photo by Nick Paul
Hi Keith,
The brick pavers leading up to my front porch have become an eyesore. The cracks not only have weeds growing out of them, but it looks as though there is algae as well. The bricks are still level, so I don't think they have to be replaced, but I would like them to be the nicest part of the entrance to my home again. What would you suggest to bring them back to life? —Nicholas S., Ypsilanti
Hi Nicholas,

Just as the front door of a home is similar to a tie of a suit, the walkway entrance to the door is equally important. If you have a beautiful home and the walkway leading to it is an eyesore, then somehow it brings the image of the entire home down.
As I like to say, there is good news for you — this is not an expensive or large and time-consuming project.
The key to a well-maintained and beautiful brick paving project is the foundation. The foundation must be solid, level and even. From your question, this all seems true. All you'll need is a power washer, sand, broom and leaf blower if you have one.
Cleaning the debris in between the bricks is crucial. I have found that a power washer is one of the handyman's best friend, especially in this situation, (along with duct tape of course). It can be used to clean siding, decks, garage floors, dirt, weeds and algae in-between brick pavers. Power washers can be rented from your local hardware store. Be sure to follow the instructions carefully because misuse has been the cause of many ER visits.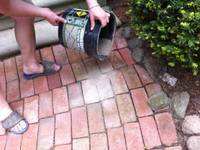 Photo by: Nick Paul
Because you'll be blowing out algae, weeds and dirt, this part can get a little messy, so be sure to dress accordingly.
Once the area is clean and dry, it's time to add sand. There are many different types of sand available such as baby sand, play sand, joint sand and, my favorite, polymeric sand.
Polymeric sand is used for brick paving, patios and stone and is my choice because of the low-maintenance properties. It has an added substance called polymer that dries to a semi solid material when water is added. This improves the interlocking and durability of the project; it also helps prevent weeds.
Although it mostly comes in two colors, tan and gray, if you search hard enough, different colors are available on the market.
The key to working with polymeric sand is to ensure there is no sand left on the bricks prior to adding water. You can use a grout bag, grocery store bag, a funnel or the supplied bucket to pour the sand into the brick lines. Spread the sand evenly using a push broom. Then finish by blowing excess sand off the bricks with a leaf blower. Again, I cannot stress enough to remove all sand on the bricks. Avoiding this step will leave a white residue which will be nearly impossible to remove.
The next step will vary based on the product, but spray a water mist on the grout lines four or five times at 15 minute intervals.
After you have completed that, it's time to add a finish sealer. This also helps to keep the sand in place as well as keep the pavers looking new. You may use any clear sealer for patio bricks; the one I recommend is Thompson's Water Seal Waterproofer Plus Masonry Protector which works great on concrete and brick. It maintains the natural color of the surface. There are other products out there that will make the stones appear to be wet all the time.
I hope you enjoy this project because, with a little investment and elbow grease, this project can make a significant impact on the curb appeal of your home.
Paul is a State of Michigan Licensed Builder. Paul serves as President and founding member of Nationally franchised HandyPro Handyman Service, servicing Washtenaw, Wayne and Oakland Counties. www.handypro.com. Email questions or comments to kpaul@handypro.com.