ON THE HOUSE
HOME & GARDEN:

Install a bathroom where you never thought possible... the easy way

Posted on Fri, May 4, 2012 : 4:30 p.m.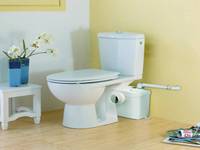 Photo by: Saniflo.com
Hi Keith,
I'm a do-it-yourselfer and would like to install a toilet in a small basement room and looking for an alternative way to install the plumbing drain without the labor and cost of busting out the concrete. There is a cold water pipe nearby but not a pipe to drain the waste. I've heard from other contractors that there are systems designed for this but have not found one. Any help would be greatly appreciated.

—Walter D., Canton

Hi Walter,

Installing toilet in your bathroom can be a labor-intensive and backbreaking project if you have to install a toilet waste line. To have a wasteline installed, the concrete will have to be broken and removed in order to install piping along the basement floor. Then it will have to connect to an existing wasteline, (if you have one), and the cement will have to be re-poured. It's not a project for the average do-it yourselfer.
The good news is that what you have been hearing from other contractors is correct. There are toilets on the market which will help you avoid the hassle of breaking up the concrete and allow you to have a toilet without the expensive cost and hard work.
The solution is called a macerating toilet system. This system includes a toilet which discharges from the back of the toilet into a macerating unit. The macerating unit is similar to a garbage disposal and a sump pump. The unit pulverizes any debris into very tiny particles, and the pump discharges the waste into a small 3/4-inch pipe, (a normal waste pipe is 3 inches). The waste line can run up to 16 feet and attach to an existing waste line that flows out of the home.
Photo by: libertypumps.com
A couple products which I found to be useful are Liberty Pumps and SaniFlo.
These systems do require an air venting line. Searching for an existing line somewhat nearby will make installation easier.
If you would like to take it a step further, an entire bathroom can be installed using the same unit. A stand up shower and sink can be connected to the same system. You can now have an entire bathroom where you never thought possible. Enjoy!
Paul is a State of Michigan Licensed Builder. Paul serves as President and founding member of Nationally franchised HandyPro Handyman Service, servicing Washtenaw, Wayne and Oakland Counties. www.handypro.com. Email questions or comments to kpaul@handypro.com.