Posted on
Tue, Dec 11, 2012 : 10:52 a.m.
Pretty and versatile kale dresses up Szechuan Chicken
By Jim and Janice Leach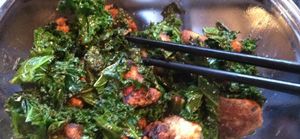 Janice Leach | Contributor
My earliest encounter with
kale
years ago was watching as my aunt used leaves of kale to decorate a plate of luncheon meats for a party. She had a background in catering, so she knew how to cover the tray with layer of kale leaves and then put the slices of meat on top of the kale. The presentation gave the family party buffet table a more professional look.
I was really impressed — even more so when she told me that kale was edible, although it wasn't on the menu that day. Some years passed before kale became a regular guest in our garden and kitchen.
Kale is on our menu a lot in the fall, and this year the kale season has stretched on at least into December. Some people talk about trying to "sneak" kale into family meals, but at our house, no sneaking is necessary. We enjoy this versatile vegetable served many different ways.
Kale can be a delicious side dish or the co-star of the meal in dishes like this Szechuan Chicken, where kale takes the place of bok choi.
As is often the case, I cannot vouch for the authenticity of the recipe, only that the ingredients are common enough for an American kitchen, and yet they offer a fresh taste for some much-needed variety on our menus.
Szechuan Chicken with Kale

Ingredients: 2 teaspoons minced garlic 1 teaspoon grated fresh ginger 1/2 teaspoon lemon-pepper seasoning (salt-free) 1 teaspoon of 5 spice seasoning (the one I like contains cinnamon, star anise, fennel, cloves, ginger, licorice, szechuan peppercorn, and white pepper) 1 pound of chicken breast, cut into bite-sized pieces 1 large bunch of kale, cut into bite-sized pieces 1/2 cup chicken or vegetable broth 2 tablespoons soy sauce 3 cups of brown rice

Method: 1. Mix the spices in a large bowl. Add the chicken pieces and toss to coat them all with the seasonings.

2. Place a wok or a large skillet set on medium-high to heat until very hot. Add the oil and swirl in the pan. Place chicken pieces in the pan and do not crowd. Allow the chicken to brown for 2 or 3 minutes. Turn and cook 1-2 minutes more.

3. Add the kale and reduce the heat to medium. Continue cooking, turning the kale, until the leaves begin to wilt.

4. Add the broth and the soy sauce. Bring to a boil, then reduce the heat to a simmer. Cook 2 minutes or until the chicken is cooked through and no longer pink in the middle.

5. Serve with brown rice.
Jim and Janice Leach tend a backyard plot in downtown Ann Arbor, where they try to grow as many vegetables and other plants as possible. For the last five years, they've published gardening tips, photos and stories at their 20 Minute Garden website.