Ann Arbor Native
home & garden:

Keeping your native plants neat

Posted on Mon, Sep 10, 2012 : 12:01 a.m.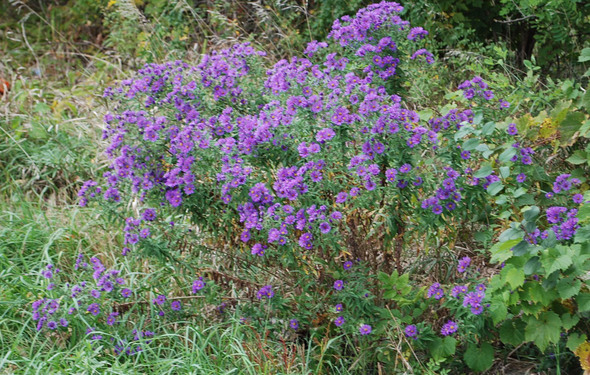 Rick Meader | Contributor
In the not too distant past, we talked about how plantings with native plantings don't have to be messy. You can use them in formal as well as completely random, informal gardens. Just as with non-native, exotic plants commonly used in gardens, you need to pick the right location for plants based on their growth habits (among them, their need for sun, moisture, and their height and spread). In this entry, we'll talk about how to plant for neatness, and how to retrofit plants that aren't quite behaving in a completely managed manner.
First, the basics of planting. Taller plants lean. There, lesson over. Once you understand that lesson, it makes the next lesson simpler. Plant shorter plants closer to where people are walking, because they don't lean. Then, plant taller plants behind them so when they do lean, the dew-laden or flower-laden branches don't brush against your pants legs, giving you an impromptu wet-foot.
To make this more concrete, shorter plants with fairly compact habits like Wild Geranium (Geranium maculatum), Sand Coreopsis (Coreopsis lanceolata), Foamflower (Tiarella cordifolia), Trillium (Trillium grandiflorum), Wild strawberry (Fragaria virginica), Woodland Phlox (Phlox divaricata), Nodding Wild Onion (Allium cernuum), Hairy Penstemon (Penstemon hirsutus), and even Pennsylvania Sedge (Carex pennsylvanica) can form a nice border or bed close to where people are walking.
Plant them in a band or bed at least as wide as the taller plants behind them are tall, so when the taller plants do lean over, they just loom over the shorter plants, leaving your pants dry. Then, you can put a layer of mid-sized natives behind them, and some even taller plants behind them to provide a range of textures, looks, colors and blooming times to your planting area.
Sometimes, though, even careful planning and design need some extra assistance. Plants like New England Aster (Aster novae-angliae) and Smooth Aster (Aster laevis) get gangly by nature, especially when they're fully in bloom. When they get wet, their floral splendor reaches to the ground instead of reaching to the sky. As mentioned in a previous entry, you can cut those plants down to one-half their height in early June to create a more compact, bushy shape that still blooms profusely in late summer-fall but doesn't sprawl when it gets wet, or laden with showy flowers.
Another thing you can do, if you want to let plants grow to their full glory, is put a fence at the edge of your tall plantings, so they don't bend past the edge of the fence. A split rail fence or picket fence would both be attractive borders to keep your tall grasses and wildflowers in their place.
I go low budget and put some tall wooden stakes in at strategic points along my "prairie" and run string between them at heights that keep the Grey-headed coneflower (Ratibida pinnata), Big bluestem (Andropogon gerardii) and Spiderwort (Tradescantia ohiensis) from encroaching on my limited lawn. You may need to string two levels to help up plants of shorter and taller stature. In my case, it's not particularly scenic, but the temporary support does the job for the late growing season.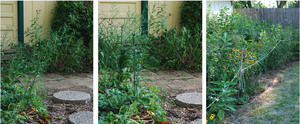 Rick Meader | Contributor
Finally, you can also stake plants. In the photo, I show a before and after photo of a rogue Smooth Aster plant which planted itself in a strategic corner location by our rear path. I wouldn't have planted it there, but it has great flowers in the fall. So, I chopped it short in June, but as you can see, it still reaches out into the path more than I want.
So, I got a tall metal rod and twist-tied the plant to it, making sure that it stays upright when it blooms. I may choose to move or remove the plant after this fall (yes, you can "weed" a native plant — I've done it a lot in my yard), but for this fall, I'll have a nice floral display at the corner that stays put.
The moral of this story is that you can treat natives like any traditional garden plant in order to make them behave how you'd like, but you'll have the added benefit of attracting and feeding a plethora of native bees and butterflies in the fall while you enjoy the bright colors they provide you. Be creative, and use native!
This week, blooming in our yard, are Stiff Goldenrod, Bluestem goldenrod, Canada goldenrod, Smooth aster, Arrow-leaved aster, Heart-leaved aster, Calico aster, Prairie Dock, False Sunflower, Ironweed, Brown-eyed Susan, Green-headed Coneflower, Tall coreopsis, White Snakeroot, Mountain Mint and Great Blue Lobelia. The seeds of Jack-in-the-Pulpit, Spicebush and False Solomon's Seal add some extra color, too.