Posted on
Mon, Dec 13, 2010 : 7 a.m.
Primer and paint add up to a kitchen makeover for $50
By Sarah Finks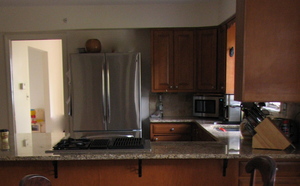 Sarah Finks | Contributor
I did it! I have to admit that I had been dreading this project. Ever since we moved into this house, I just knew that I wanted to paint the kitchen cabinets white. But was a bit intimidated by the magnitude of such a project. So after a lot of thinking and estimates from local painters — oh my! — I finally just dove in.
The photo at the top shows what my kitchen looked like before.
With one gallon of Zinsser's low VOC primer and one gallon of Valspar's low VOC antique white semi-gloss, I went to work. I painted one coat of primer followed by one coat of 1/2 primer 1/2 paint (following advice from a professional painter.) And I finished with two coats of paint.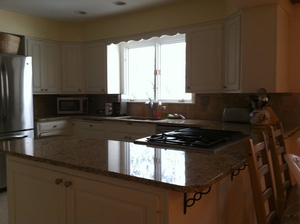 Sarah Finks | Contributor
I am so pleased with the outcome (see below). I can't believe how much more light and how great the granite counters look. They were totally overshadowed by the 1970s cabinetry before.
What do you think? Was it worth the $50?
Don't forget to stop by my giveaway for a dotmine day planner.
Sarah Finks is a local mom and blogger trying to find order amongst the chaos of three small boys and a wonderful husband. Feel free to e-mail me at threeboys.home@gmail.com or check out my blog at threeboys-home.blogspot.com for more household tips.