Posted on
Fri, Apr 1, 2011 : 8:20 a.m.
Before you climb that ladder, keep these safety tips in mind
By Keith A. Paul
When I was checking the exterior of my two-story home, I noticed that there were some trim boards that need to be replaced and some touch-up painting that needed to be done. I know how to do the job, but the problem I have is being up on the ladder — it makes me nervous. Any ladder safety tips for me?
— Sarah J, Ypsilanti
Being up on the ladder can make anyone nervous and the task shouldn't be taken lightly.
According to the U.S. Consumer Product Safety Commission, there are more than 164,000 emergency room-treated injuries related to ladders in the U.S. each year.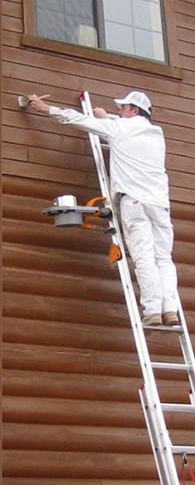 Courtesy of Rung-It.com
Start by inspecting your ladder before you use it. Check for defects in the rungs: Are they loose, missing, cracked, twisted, distorted, split or worn? Examine the braces to see if over time they have become loose or broken. Scan the locks to ensure they latch properly. Do not use any defective ladders until they are repaired.
With spring in the air, the temperatures can fluctuate regularly. If your ladder rungs get wet and the temperature dips below freezing, the rungs can become icy and slippery. Also, make sure that the ground is not frozen, frosted over or wet. Make certain you are putting the ladder on a level, solid surface.
Never put your ladder on any material that can cause the ladder to slide, such as a tarp. I knew a contractor who laid a tarp over a deck to protect it, then proceeded to put up a ladder to work on the gutters. The tarp gave way, the ladder slipped, and down he went. Three days later, he left the hospital in a wheelchair.
Not all ladders are created equal, so be sure to check the weight limit that your ladder can handle. Include your weight, plus any tools or materials you will be using.
If you are using a straight ladder, make sure you lock the ladder and it's at a 75 degree angle, extending about three feet over the roof line. When you are over 10 feet off the ground, it's always good practice to have an assistant holding the ladder.
In addition, each ladder rung should have a slip-resistant grip. Don't try to use a ladder when it's raining.
When my wife was young, her uncle was on a ladder trimming a tree. It began to sprinkle. As he was just about to finish, the ladder became slippery. He leaned out to reach for a branch, slipped and fell from five feet up. The shears flew out of his hands and went swirling up into the air. He fell flat on his back and the shears landed blade down in the grass about six inches from his head.
He got the wind knocked out of him for a minute, but I'm not sure if it was from the fall or the sight of those shears hurling straight down at him. He was lucky. But it's a lesson to be learned for all of us.
Never leave your ladder unattended. What kid can resist a homemade jungle gym? I barely can.
Remember, there are different ladders for different jobs. Choose one with the proper requirements of weight and job safety. For example, you would not want to use an aluminum or metal ladder when working around electricity.
As with most articles I write, there is more product and safety information that could fill a book (and probably has). This column is to give you an overview. If you follow your ladder's consumer guidelines, you should be safe. If you still feel nervous, hire a professional.
Confidence, with caution, is a big part of staying safe.
Paul is a State of Michigan Licensed Builder. Paul serves as president and founding member of nationally franchised HandyPro Handyman Service, serving Washtenaw, Wayne and Oakland counties. www.handypro.com. Listen to Paul every Saturday at 11 a.m. on "It's Your Home, Let's Talk About It" WAAM Talk 1600AM. Email questions or comments to kpaul@handypro.com.