Posted on
Fri, May 6, 2011 : 5:55 a.m.
Try these DIY techniques to cure leaky cement basement walls
By Keith A. Paul
Hi Keith,
During heavy rains, we have a couple minor leaks in the unfinished portion of our basement. The walls are poured cement and are leaking from what appears to be half-inch holes throughout the walls. Can I just paint with waterproofing paint, or is that just a temporary fix?
— John, T. Ann Arbor
Hi John,
This is a common issue with poured concrete basement walls here in Michigan, and the majority of these leaks are not a sign of structure defects. These holes are formed from the steel rods that hold the forms of the walls when the concrete is poured. Typically, the rods are removed or broken off after the concrete cured.
The holes are then patched and covered by a cement or asphalt patch by the builder before back-filling, ensuring a water-tight surface. The patches can deteriorate over time, allowing water to seep through and causing further damage in the walls, resulting in "Niagara Falls" in your basement.

Fortunately, there are a few simple steps to help stop this issue from creating worse problems.
1. Use a ball-peen hammer and knock off all loose concrete in and around the hole. Be sure to have a bucket in case this lets in more water.
2. Insert a cork into the hole and hammer it tightly into the wall, approximately half an inch from the surface. These corks can be picked up at most hardware stores.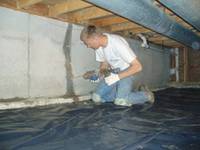 Photo by: 4crawlspaces.com
3. Apply a hydraulic cementing injection and let it cure. Don't worry if the hole is damp or wet, as the cement can cure in damp or wet areas. Although cement is almost as old as construction itself, hydraulic cement was formed around the industrial age to meet the modern needs. Hydraulic cement is basically any cement that can be mixed and cured with water. And yes, we are instructing you to fix a water issue in your basement with water.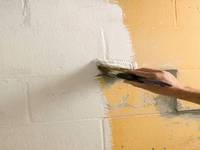 Photo by: diyadvice.com
4. Once the repair has been verified, you can paint with a concrete waterproofing paint such as Drylock for additional protection. If the leaks continue, call a professional. Occasionally, the rod hole leaks can be due to more severe issues.
In my experience, most basement water leaks are due to erosion and improper grading around the five-foot perimeter of your home and incorrectly installed gutters.
Be sure that the grade extending from your home outward has a minimum of a five-inch downward slope at the end of the five-foot perimeter. Also, check your gutters to ensure they are flowing properly, diverting the water away from your home.
Paul is a State of Michigan Licensed Builder. Paul serves as president and founding member of nationally franchised HandyPro Handyman Service, servicing Washtenaw, Wayne and Oakland counties. www.handypro.com. Listen to Paul every Saturday at 11 a.m. on "It's Your Home, Let's Talk About It" WAAM Talk 1600AM. Email questions or comments to kpaul@handypro.com.