concentrate:

Efforts to produce more locally-grown food thriving with Real Time Farms and Growing Hope

Posted on Wed, Jul 21, 2010 : 2:38 p.m.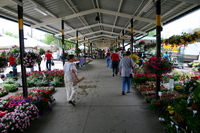 Jessica Webster | AnnArbor.com

As demand increases for locally and sustainably grown food, Karl and Cara Rosaen created RealTimeFarms.com to help users all over the nation navigate local scenes, according to an article in Concentrate, a local online magazine.

The article describes the site as "part social media tool for the local foodie set — think Gowalla or Foursquare for farmer's markets — part nationwide directory of markets and available products." The site helps users search nationwide for farmers markets based on city or ZIP code.

Concentrate also highlighted this video on Growing Hope, encouraging people to support efforts to bring locally grown efforts to the masses:



Visit Concentrate to read the full articles on Real Time Farms and Growing Hope.