Posted on
Wed, Jun 8, 2011 : 5:56 a.m.
Looking for bloomers: Ann Arbor Garden Walk set for June 11
By Janet Miller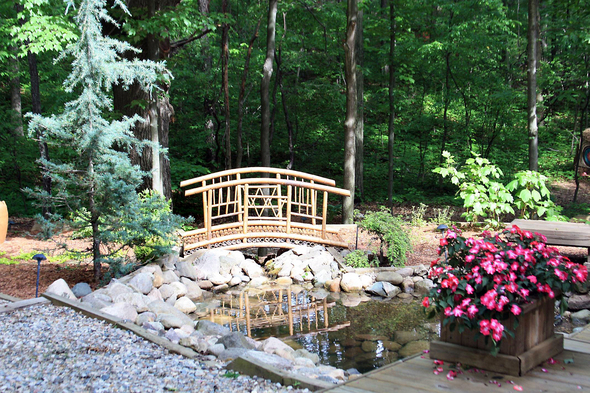 Courtesy photo
Monet's Garden is a lot closer than Giverny.
The 21st annual Ann Arbor Garden Walk, sponsored by the Ann Arbor branch of the Women's National Farm & Garden Association, is scheduled for Saturday. The walk includes six private gardens, from a mature garden that features a huge variety of trees and plants to a rain garden, where rainwater runoff is used.
And one garden is centered around a pond. "I call it Monet's pond," said Irene Ball, chair of this year's garden walk.
The walk includes a variety of gardens and a variety of flora: Dogwoods mingle with hostas, arches covered with a Montana clematis act entryways and wooded lots in suburban settings offer refuge.
A glimpse of the gardens, which are spread out around Ann Arbor:
Garden One: This garden was an antidote to the monotonous sprawling green turf found in new neighborhoods of the 1970s and includes a shade gardens, a rain garden and stone paths, bridge and retaining wall.
Garden Two: A small, manageable garden that includes a number of unusual plants including a Dawn Redwood with yellow needles. An ornate wrought iron fence and a stately cornus kousa (dogwood) frame this garden.
Garden Three: The valley-like setting makes this suburban garden feel like it's out in the country. A stone wall, water features, a Baldy cypress and mature peonies round out the garden.
Courtesy photo
Garden Four:
The front lawn was replaced with a double-sided Michigan fieldstone wall and an informal perennial garden. The wooded backyard includes a variety of hostas and a garden shed that blends with the landscape.
Garden Five: Ponds, waterfalls, streams and paths create the feel of Monet's gardens. A weeping spruce and a red cedar soften the waterfalls and a path leads to a Forest Pansy redbud, pink dogwood, white aspire birch, kousa dogwood and more. English-style flowerbeds are filled with perennials.
Garden Six: This mature, 35-year-old, one-acre garden has five distinct areas along with 10 dogwoods, 25 Japanese maple and large collections of hostas and hydrangeas. There are a number of unusual conifers, many in weeping form. It also has a tri-color beech tree and birdhouses and accents.
The Garden Walk will be held from 10 a.m.-4 p.m. Tickets can be purchased ahead of time and on the day or the walk at four locations: Downtown Home & Garden, Matthaei Botanical Gardens, Nicola's Books and Dixboro General Store. Addresses for the garden stops are on the tickets. For more information, go to www.annarborfarmandgarden.org/.