Posted on
Sat, Nov 12, 2011 : 6 a.m.
Gardening Wings: on becoming a Master Gardener
By Jim and Janice Leach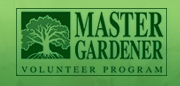 This past Wednesday evening, Master Gardeners of Washtenaw County and their friends gathered for the Fall Harvest and Recognition Banquet of 2011. It was a swell evening that of visiting with gardening friends and feasting on a fantastic potluck; these gardeners are also fabulous cooks!
In the background, a slideshow of gardeners at work and gardens in full bloom provided an inspiring backdrop while we dined. There were door prizes, festive centerpieces, certificates and special awards. On a personal note, I got my wings — my Master Gardener wings, in certificate form.
Two years ago, Jim read about the local Master Gardener course and suggested that I look into it. Being in one of those more flexible under-employed stages of life, I could fit the whole day per week commitment into my schedule.
I contacted the coordinator and had my name added to the mailing list for the next round of applications. When I received the form, I was impressed by its size and depth — not a light weight, shoe-in kind of deal. The application asked for three personal references, and I later heard from my friends that each one was contacted and asked a lot of questions about me.
My experience has been that that level of follow-through doesn't even happen with most job applications. Given that working as a Master Gardener also involves coming in contact with various community populations, applicants are also subject to a background check.
I was really fortunate to get into the class, especially since the Extension Office receives far more applications from people than there is space for in the course.
The Master Gardener class itself was illuminating, challenging and rigorous. We met each week for a four-hour lecture, divided by a 30-minute break for lunch. We had a series of visiting lecturers, each with experience and expertise in his or her particular fields — plant science, turf, fruit trees, vegetables, flowers and more. We received a hefty resource book, with a chapter of assigned reading each week and a take-home quiz. The course itself ended with a final exam.
And then the volunteer hours began. Master gardener trainees have to complete 40 volunteer hours total — half in Extension-based projects, like the Garden Hotline, the Dial-a-Garden Program, working in the demonstration garden at the Extension Office, or soil testing booths, information booths at farmers' markets and fairs, or assisting with the Junior Master Gardener program.
Master Gardeners choose where to do the rest of their volunteer work in projects ranging from Project Grow, Growing Hope, Food and Faith Gardens, Ann Arbor City Parks, Washtenaw County Parks, Matthai Botanical Gardens and Nichols Arboretum, to name just a few.
Master Gardeners are encouraged to keep track of their volunteer time through an online application where hours are confirmed by the Extension Office. Not everyone records his or her hours, either through forgetting or modesty, but at the banquet, the Extension Office report noted that 169 gardeners provided 6,898 hours of volunteer time last year. Special recognition was given to individuals who volunteered more than 100 hours, or 250, or 500 — and there were more than 35 of those awards given out!
Although Wednesday evening was golden, there is a dark lining, unfortunately — sort of an opposite situation to the storm cloud with the silver lining. Due to budget cuts at the state and local levels, the Master Gardener training program will not be offered in Washtenaw County next year. Further, the position of local coordinator has been eliminated, much to the disappointment of the Washtenaw's Master Gardeners.
Email messages from the Master Garden Volunteer Program State Office have assured us that the Master Gardener program will continue, and that courses are being planned for 2012 and 2013. In the meantime, efforts will be focused "on programming solutions that are technologically savvy, cost-effective, high-quality, consistent and relevant to the changing needs of our state."
How these changes will play out is yet to be seen, but I do know that the program I participated in works, as seen by the continuing and active commitment of the Master Gardeners who were honored on Wednesday evening.
I truly hope that the funding challenges the Master Gardener program faces are only temporary ones and that the program can continue to offer members of the community the educational opportunities and volunteer connections that I enjoyed this year.
I'm glad I took advantage of the chance to apply when I did, that I had time and space in my life, and that I have a partner who always has my best interests at heart. It's a clear series of blessings in my life — the kind that gives a person wings.

Janice and Jim Leach have been gardening together for close to 30 years. They tend a backyard plot in downtown Ann Arbor, where they try to grow as many vegetables and other plants as possible. For the last four years, they've published gardening tips, photos and stories at their 20 Minute Garden website.