Posted on
Thu, Dec 27, 2012 : 6 a.m.
Master Gardener Classes to be offered near and in Washtenaw County
By Jim and Janice Leach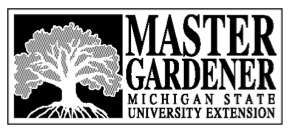 The MSU Extension Offices of Jackson, Livingston and Washtenaw County will again offer the
Michigan Master Gardener
course in 2013 and 2014. Gardeners who wish to build on their experience and expand their knowledge are invited to apply for a place in these upcoming classes.
The 12-week long course covers a wide range of topics including flowers, vegetables, fruits, trees, shrubs, turf, integrated pest management, soil, composting and more.
Certificates are awarded upon the completion of the course and 40 hours of volunteer work.
Master Gardeners have the opportunity to be a true gardening resource in their communities. In Washtenaw County, for example, Master Gardener volunteers assist with the Gardening Hotline at the Extension Office, contribute the Dial-a-Garden program, and volunteer their time and energy in gardens at the Washtenaw County Parks, the Farm Council Grounds, the Ann Arbor Parks and Recreation, Arbor Hospice, Hurons Woods, Project Grow, Washtenaw County Youth Center, Matthai Botanical Gardens, Edible Avalon, Food and Faith gardens, Ann Arbor Bloom Day and in Garden Talks at Nicola's Books and assisting with the Junior Master Gardener Program — to name just a few of the projects that I'm aware of.
The class will be offered at the Jackson County MSU Extension Office on Thursday evenings from 6 to 10 p.m. from Jan. 17-April 18. The Jackson County MSU Extension Office is located at 1715 Lansing Ave. in Jackson.
Applications can be obtained by contacting your local MSU Extension Office:
Washtenaw County: 734-997-1678
Jackson County: 517-788-4292
Livingston County: 517-552-6908
Applications for the January - April course must be turned in by Jan. 7, 2013.
The cost of the course is $300. A limited number of scholarships, based on financial need, are available.
A fall class will be offered in Ann Arbor in August through November. Applications for that course will be available in June. A course will be offered in Howell in the winter of 2014.
To receive an application for these classes when it becomes available, send your name, address, phone number and email address to bricault@anr.msu.edu or contact any of the county extension offices above.
As an Advanced Master Gardener trained through the Washtenaw County MSU Extension Program, I'm extremely happy to have the program offered again. The Master Gardener course is among my best experience this century — not just because of the opportunity of systematizing and organizing my gardening experience and combining it with new science-based gardening knowledge, but also because of the connections I've gained with kindred gardening spirits and local projects where I can use my skills and energy.
If becoming a Master Gardener has always been on your Life List or if you want to add it now, don't miss this opportunity!
Jim and Janice Leach tend a backyard plot in downtown Ann Arbor, where they try to grow as many vegetables and other plants as possible. For the last five years, they've published gardening tips, photos and stories at their 20 Minute Garden website.