Posted on
Tue, Dec 6, 2011 : 12:09 p.m.
Native plant winter identification: When you can't find leaves, look for pods
By Rick Meader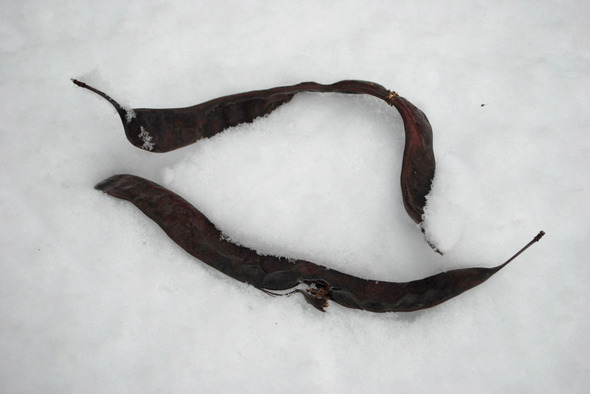 Rick Meader | Contributor
Pods. The leaves have fallen and now we're left with twigs, bark, nuts and pods to set one deciduous tree apart from another. To help enjoy the assets of late fall and winter, and fill the gap in new growth between fall and spring, we'll use this and the next few entries to learn more about pods you may find on the street, in your yard, in your neighbor's yard or in the woods, and the native trees (from the Fabaceae or Legume family) that produced them.
This week, let's learn more about Honeylocust (Gleditsia triacanthos), the omnipresent denizen of streetscapes and parking lots. Its long brown, flat seed pod may be up to 12 inches long and is sometimes twisted. It may contain as many as 14 seeds.
The flowers they come from are racemes (elongated clusters of smaller greenish flowers) which bloom in late spring and have a pleasant light aroma that attracts honeybees (and is the source of the common name). Of all the pods we'll study, this is the one you're most likely to find, and if a honeylocust tree is nearby, it's highly likely you'll find seedlings in your yard, too.
Honeylocust, the tree, is a native to the southernmost counties of Michigan and central North America, from Ohio and Kentucky west to eastern Kansas, and from Iowa and Michigan south to Louisana and northeastern Texas.
Although you're most likely to see the de-clawed version of it in yards and across the urban landscape (variant inermis "no thorns"), it is actually a thorny tree found naturally in and near river and stream floodplains. The thorns are modified branches, and help to keep squirrels from feasting on all of the seeds.
The tree's leaves are compound leaves with many small leaflets that flutter down in early fall, filling gutters everywhere. Prior to falling, they turn very nice shades of yellow and cast a beautiful glow in the air, and on the ground, between the green blades of grass and on the pavement.
As noted above, you're far more likely to see the thornless variety of this tree in nurseries and in planted landscapes, because for some reason people don't like to be poked. However, if you're lucky enough to find a natural-born honeylocust, it's easy to be impressed by the ferociousness of its clumps of thorns. You can buy the natural, thorny straight species from Wildtype Nursery in Mason, Mich.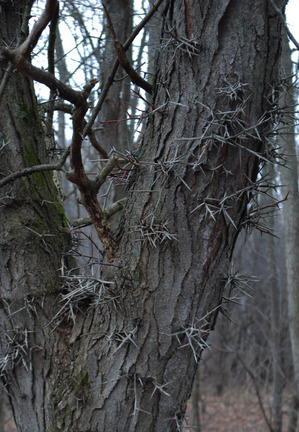 Rick Meader | Contributor
If you're interested in using this tree in your own landscape, and you don't want the thorns, there are many attractive thornless varieties, including 'Sunburst' and 'Skyline.' It is a fast-growing, mid-sized tree, reaching heights of 40-70 feet, with a spread of the same.
Although it is naturally found in floodplains, it does well in a variety of conditions, including hot, exposed sites and compacted soils, which helps to explain its prevalence in urban plantings. One of its most endearing features is the light shade it casts, which allows lawn and most plants to grow beneath it.
It's not just used by people for landscaping, however. Wildlife such as squirrels, deer, bobwhite and opossum eat the seeds, and, as mentioned before, honeybees use it for nectar.
Native Americans used it for a variety of medical applications, including cold medicine, and as a sweetener for worm medicine. Native Americans, settlers and farmers used the wood for fence posts because it doesn't rot readily, and the reddish-brown wood is also used for pallets, railroad ties and even guitars. In the South, it is also called Confederate Pin Tree, because Confederate soldiers would use the thorns to hold their uniforms together.
In future entries, we'll learn about Honeylocust's cousins, the Kentucky Coffeetree (Gymnocladus dioicus), Eastern redbud (Cercis canadensis) and even learn a bit about its cousin who overstayed his welcome, the non-native (to Michigan) Black locust (Robinia pseudoacacia). In the meantime, get out, enjoy the longer distances you can see in the forest, and enjoy nature, everyone!
Rick is a local landscape architect with a special interest in all things natural, including creating designs that include a lot of native plants (and the critters they support). You can contact him at yourland1824@gmail.com.