Posted on
Tue, Mar 16, 2010 : 11:27 a.m.
Native plants and the critters that love them
By Rick Meader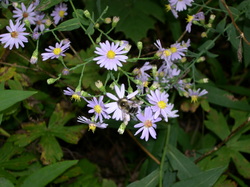 Rick Meader|Contributor
When you see a native plant (or, for that matter, any plant), does the plant itself cause you as much excitement as seeing a colorful caterpillar or butterfly on the plant? How about your back yard? Do you enjoy just the plants, or the wildlife that may also be a part of it? I get a big thrill from the emergence of the plants or their blooms, but I get a huge thrill if I see a caterpillar hiding under a
milkweed
leaf, or a bird perching on a native plant I've put out there.
Plants are great, but native plants are significantly greater in terms of supporting insects and the birds that feed on them. That is the point driven home in a very entertaining and informative book called "
Bringing Nature Home
" by Douglas W. Tallamy. I've enjoyed native plants for their beauty, interest and historical basis, but until I read this book, I never understood their significance as a basis for the survival of birds, as well as insects.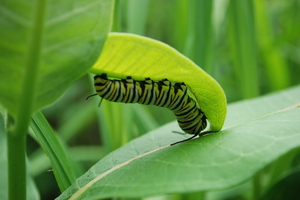 Rick Meader|Contributor
Even casual observers of plants may know that milkweeds (
Asclepias
species) form the support system for Monarch butterflies, but did you know that they also support 11 other species of Lepidopetera (moths and butterflies)? And, many of these moths or butterflies, or their larvae, may be food for some of your favorite birds. Tallamy's extensive literature research behind this book turned up such nuggets as a study that revealed that 96 percent of terrestrial birds in North America rely on insects and other arthropods to feed their young. As much as many people have a fear or loathing of insects, it's hard not to at least appreciate them as food for less controversial birds.
As an entomologist at the University of Delaware, Tallamy has studied the impact of insects on native and non-native plants and found that native plants support, by far, more insects, and, in turn, birds than introduced species. He takes the next logical step by contending that if we don't increase the number and quantity of native plants in our own personal landscapes, then the populations of insects, and therefore birds, will drop with the continuing reduction and fragmentation of natural landscapes seen with growing human populations.
This book is not a landscaping book, and is not always a light read. Be prepared for a lot of scientific names of plants, insects and birds. But don't be afraid! You'll learn a lot, and not just scientific stuff. He also brings in human interest points, like the location of the nursery where mile-a-minute weeds started their spread across Pennsylvania and other points in the United States. He gives personal accounts of his experiences with native plants, deerflies and his neighbor Sam, and his writing style is definitely more accessible than you'd find in a scientific journal.
To me, the most useful sections of the book were his analyses of why native plants are more desirable to native insects than non-natives (yes, insects and birds can also be native to a region), why plants can't just "become native" if they've been around awhile and which plant genera are most useful, in terms of supporting animal life (not just insects). You've probably never heard any of this information before (I know I hadn't), and it is absolutely crucial information to have if you're interested in preserving the plants and animals of our area from extinction.
But, no less enjoyable and informative were his outstanding photographs of plants and insects, the descriptions of various insect families that birds eat, the stories he shares about his own landscape, and the question-and-answer section at the end of book where he poses and answers commonly asked questions about native plants. This is particularly useful for talking with folks who aren't on the native plant bandwagon, or who may be, but don't know some of the interesting information backing up the wisdom of using native plants.
He also has included a comprehensive table as an appendix, where he lists the host plants of butterflies and moths (all native to the United States). As he is based on the East Coast, not all of the plants occur naturally in Michigan, but many do, so I am including it as a downloadable PDF in this blog, with the permission of Professor Tallamy.
bringing nature home appendix 2.pdf
If you want to buy this book for yourself, and I hope you will, you can get it at the Matthaei Botanical Gardens bookstore or other bookstores, as well as through his Bringing Nature Home Web site.
Get one for a friend or family member, too, or at least share your copy when you're done with it, and enjoy the read.
Enjoy nature, everyone!
Rick is a local landscape architect with a special interest in all things natural, including native plants and the critters that eat them. You can contact him at yourland1824@gmail.com.