Posted on
Thu, Oct 20, 2011 : 5:59 a.m.
3,000-square-foot addition to country manor among stops on this weekend's Remodelers Home Tour
By Janet Miller
Photo courtesy of Brian Robards Custom Homes
Sitting on a hill at the end of a winding driveway off a country road west of Ann Arbor, framed by an undulating tree line in the distance and two small lakes, the house was already a picture of perfection.
But the owners wanted more space for hosting houseguests and entertaining and looked to Brian Robards Custom Homes, the original builder, when they wanted to add a wing. The three-bedroom ranch house was built in 2000. The architect was Brighton-based Van Brouck & Associates.
The resulting 3,000-square-foot wing -- with a wine cellar that could have stepped out of Italy, two bedroom suites, a massage room with walk-in steam shower and a English-style pub that doubles as a media room for watching movies -- will be open to the public during the this weekend's Remodelers Home Tour, sponsored by Builders & Remodelers Association of Greater Ann Arbor.
It is one of 17 stops on the annual tour, the largest tour in recent years, said Pete Nowakowski, marketing and communications director for BRAG Ann Arbor. The remodeling projects are significantly larger in scope than past years.
On tour
What: 2011 Remodelers Home Tour, sponsored by Builders & Remodelers Association of Greater Ann Arbor.
When: 3-7 p.m. Oct. 21; 10 a.m.- 6 p.m. Oct. 22; and noon-6 p.m. Oct. 23.
Cost: $10.
Details:
Details: For a complete list of all of the tour stops, or for more information, go to
www.BRAGAnnArbor.com
.
And while kitchen remodels remain king -- at least 11 of the 17 have renovated kitchens -- many of them include additional elements such as bathrooms and mudrooms.
There are a variety of projects, from a remodel that turned the space above a detached garage into an office/guest suite to a deep green whole house renovation and addition, along with the wing addition to country mansion west of Ann Arbor.
The owners of the estate off of Ellsworth wanted a dedicated space to view movies, but not the traditional windowless home theater with rows of stationary chairs and a permanent screen. Instead, they created a "gentleman's club," Robards said, styled to look like an old English pub. The floor is made of porcelain tile stamped to look like stitched leather.
Carved walnut doors that hold antique cut glass panels open into the lounge. There's a custom bar with a walnut epoxy top and brass foot rail. A mini-version of the bar and railing appear as the vanity in adjoining bathroom. The coffered beamed ceiling made of cherry with carved medallions speaks of merry old England.
But technologically, it's all 21st century: A 3-D television, built-in speakers camouflaged in custom pillars that add architectural interest and a remote controlled screen that drops down. There's also a drop-down projection that can lowered from the ceiling, remote controlled blackout shades that blacken the room.
"It incorporates the theater, but it's not single purpose," said Jodi Robards, Robards' wife and business partner.
The wing also includes a massage room and spa that would make any European resort proud. There's a wall-size water lily mural made in Italy and shipped, in sections, to Ann Arbor, next to the massage table. The adjacent steam shower has black Italian tile walls and a tuxedo black tile floor.
A storage room was turned into a wine cellar with limestone floor, built-in wine racks and a corking table made of flashy bedrock granite. Quarter-sawn oak doors and a brick façade outside give it an old world charm.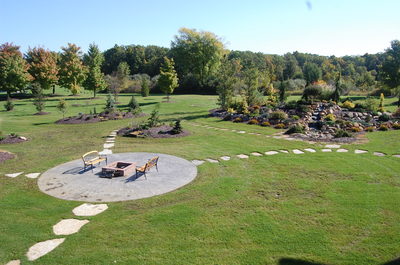 Janet Miller | For AnnArbor.com
The two new bedroom suites include the luxuries of a five-star hotel: wet bars, Jacuzzi tubs, tray ceilings and large picture windows with lake views.
The idea was to make the wing appear as if it were original to the house, Robards said. It took an Internet search throughout the U.S. and Canada and scores of call to find the exact red brick, which was no longer manufactured. Serendipitously, Robards' search eventually took him to a Detroit brickyard.
The wing is visually linked to the rest of the house with a wrap-around deck with custom wrought iron railing that leads to a screened porch with beaded fir ceiling that looks out over the grounds.
Landscaping was added, including a pocket garden with waterfall, a fire pit and outdoor hot tub, which has a much smaller water lily tile mural that echoes the large mural in the spa.