Posted on
Thu, Oct 27, 2011 : 5:58 a.m.
Out of thin air: Empty space above garage transformed into office/guest suite
By Janet Miller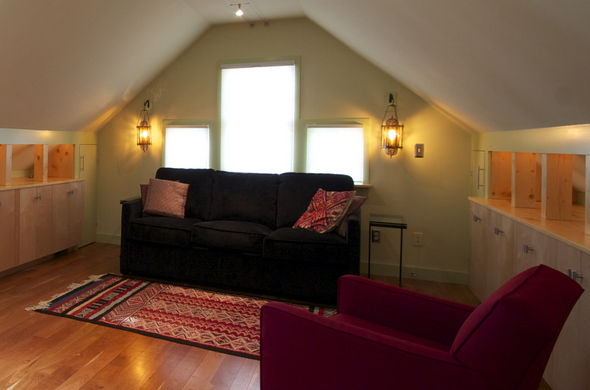 Photo courtesy of Meadowlark Builders
Regan
Knapp and
John Scudder
built a study/guest suite/yoga center out of thin air.
Scudder, who works at home, felt cramped in the couple's historic house northwest of downtown Ann Arbor. When their daughter was born, the idea of a separate space gained even more appeal.
"When I started to hear 'Daddy, come play with me,' it became clear we needed to do something," Scudder said. But where to go?
An addition to their three-bedroom 1921 Dutch Colonial house would have robbed it of its historic integrity.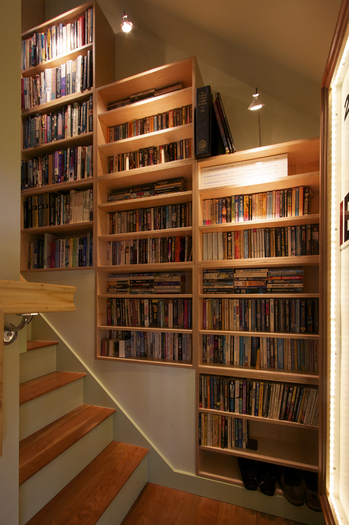 Photo courtesy of Meadowlark Builders
"The house has been barely updated," Knapp said "It's a perfect example of a 1921 house. We were hesitant to slap on an addition."
They looked to their backyard. The previous owners had built a modern two-car garage, leaving a large, airy and unfinished space above it. The garage is two-thirds the footprint of the house, said Doug Selby, president of Meadowlark Builders, contractors on the project.
And the way the garage was built with storage trusses that don't interfere with the center space rather than the more typical (and less expensive) W trusses that cut across the space allowed the project to move forward, Selby said.
Knapp and Scudder began by thinking small -- put down a floor, put up some drywall. "We were thinking of a white box," Scudder said.
But they liked the idea of having a bathroom -- it would save Scudder from having to run into the house -- and the project began to grow.
"Once we decided to go to the expense of running a plumbing line, it became a more expensive project," Knapp said.
Scudder's parents live overseas and when they visit, they stay for extended periods. The couple also needed storage space for Scudder's work.
"The old study was very cluttered and we'd just close the door on it. It always looked a mess, even when we cleaned it up," Knapp said.
And then came the idea of a yoga rope wall. Knapp and Scudder are serious about yoga and can do yoga headstands and upside down poses using the equipment.
In the end, the project included an office with built-in bookcases that follow the stairway up into the room that are both functional and decorative. Banks of built-in maple storage cabinets run around the perimeter of the room and four skylights with remote controlled solar panels invite natural sunlight in. The flooring is American cherry from Lenawee County, with varying width boards.
"The human eye likes a certain amount of randomness," Selby said. "The wood has a few solid knots which makes the wood more interesting."
Off the rear of the room is a tiny French balcony. Cable lighting is strung vertically along the pitched ceiling.
The room doubles as a guest suite with a sofa bed. There's a full bath and part of the back wall of the main room holds a host of yoga equipment.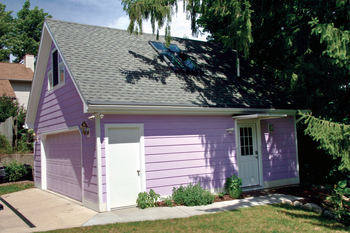 Liz Brauer photo | AnnArbor.com
While the roof trusses allowed for an open area, it was still a squeeze to install all of the mechanicals -- furnace, energy recovery ventilator, ductwork and plumbing -- into the space, Selby said. "It's a small space but there's a ton of usability. We used every inch of space."
There was some red tape. The city frowns on building mother-in-law apartments, Selby said, so it can be difficult to win approval for even a bathroom in a detached building. But the fact that there was no kitchen made it palatable to the city, he said.
There are green building elements: The lumber from a diseased pine tree on their property was used for the handrails, cabinet tops and to wrap around the trusses. And Selby created a tight building envelope for energy efficiency.
The project was one of 17 stops on last weekend's Remodelers Home Tour.
The office/guest suite is a long way from the white box the couple originally envisioned. But it was worth the effort, Scudder said.
"I'm glad we went all the way and made it a pleasant space. I spend eight to 10 hours a day there."