Posted on
Fri, Apr 13, 2012 : 12:30 p.m.
Careful prep work is the first step for painting your home like a pro
By Keith A. Paul
Hi Keith, I'm going to paint the exterior of my lapped wood siding home. Although I look forward to it, I only want to do it once in the next 10-15 years. I've seen others who painted and it had to be re-painted within the next couple years. What advise do you have to help ensure it doesn't happen to me?
—Mike S., Ann Arbor,

Hi Mike,

I agree with you. I enjoy exterior painting as well as long as Mother Nature is cooperative. There are two main reasons for most failing painting projects: poor quality paint or less than superior preparation.

A correctly painted home will not only increase the curb appeal and the value to your home, it will also help protect the exterior surface from Mother Nature and her harsh elements such as moisture rain, snow etc. It is one of the most inexpensive projects you can do yourself that has a significant impact.
As previously mentioned, poor quality paint or poor preparation are likely causes when there are problems. This includes peeling, bubbling or flaking surfaces.
Most painting projects you will spend 50-75 percent of your time with preparation, so let's start with how the professionals prepare.
First: remove and replace caulk around windows and doors. This step will help prevent water from penetrating and moisture entering your exterior walls. I prefer to use Quad or Geocel, because is it a highly durable paintable urethane caulk, with easy cleanup.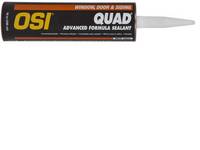 Photo by: Osipro.com
Next: remove all loose paint. Paint must have a solid surface to adhere to. Apply a new coat of paint to loose paint, and it will start flaking immediately. You can remove most loose paint by scraping or by using my favorite loose paint removal tool — a power washer. Many power washers can be rented from your local hardware store, typically for less than $100 a day. Wash the entire home; the more you clean, the better the adhesion.
Handyman tip: Be careful when spraying around glass and windows. The amount of pressure being applied will shatter most household glass... Yes, I've seen it happen.
If your home was built prior to 1978, please read the EPA lead paint safe practices. A little extra time spent can help keep you and your family safe.
Also, be sure to replace or repair and damaged or missing boards, including trim.
Spray painting. If you plan to spray paint your home and, depending on the number of windows, you may want to purchase a plastic masking machine prior to painting. This inexpensive tool can save you many hours as compared to taping and masking separately.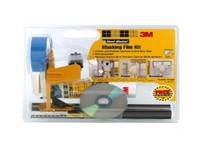 Photo by: amazon.com
Prime any exposed or new wood. Priming will not only help the paint adhere better but it will also add a layer of surface protection. Since you have lap siding, you want to make sure that the siding is not caulked at the base to allow for moisture to drain from behind the siding. Sealing the moisture in will cause the paint to peel and the wood to rot.
Let's start painting. Although, you may think you can save money by purchasing the inexpensive rollers, brushes and paint — don't. As my father told me when I was a kid, "Son, if you're going to do a job like a professional, you need the professional tools." Buying the right tools will not only allow you to complete the job correctly, but it can save you a significant amount of time.
I once purchased a gallon of paint and saved $12 a can. It took me four coats of paint, whereas if I had bought the right paint in the first place, I would have saved more than $100 in paint for the entire project, not to mention cutting my time in half.
Whether you spray the paint or roll and brush it, take your time. Hurrying this process can lead to drips, brush marks, overspray and a complete mess.
Handyman tip: Avoid painting in direct sun light. This causes the paint to dry too fast which won't allow the paint to blend, and you may end up with visible overlap marks.
Now that you've spent your time beautifying and protecting your home, the best thing you can do to help your home to keep that new look for years to come is a yearly maintenance plan. This includes touch ups, correcting any peeling and cracking paint. Sit back, relax and be the envy of all your neighbors this summer.

Join Keith as he MC's the Ann Arbor Habitat for Humanity Auction. April 20 from 6-9 p.m. at Washtenaw Community College.
Paul is a State of Michigan Licensed Builder. Paul serves as President and founding member of Nationally franchised HandyPro Handyman Service, servicing Washtenaw, Wayne and Oakland Counties. www.handypro.com. Email questions or comments to kpaul@handypro.com.