Posted on
Sat, Oct 22, 2011 : 6 a.m.
Peppers spice up the garden and kitchen: here's an easy and delicious way to enjoy them
By Jim and Janice Leach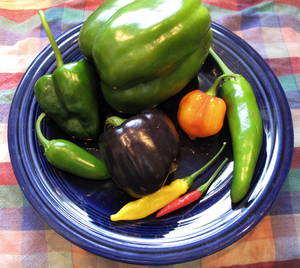 Janice Leach | Contributor
It was a fine year for growing peppers in our garden, which was made even more pleasing by the fact that we had planted eight different kinds of them.
Peppers are attractive plants and are relatively easy to grow. They are compact and can be tucked in in between plants or along the edge of a bed. Peppers are in the same family as tomatoes and potatoes, among others, but we've found they have fewer insects or other creatures bothering them — especially the hot kinds!
We tend to like food made with hot peppers, and some of us like food made with really hot peppers — the kind where eating becomes of test of strength and will. This year, however, we planted a range of peppers from mild to super hot, so there was something for everyone. Since our pepper plants were quite productive, we've enjoyed many pepper recipes.
As pictured above, we grew California wonder (at the top of the picture, moving clockwise), Naga Jolokia (ghost pepper), Anaheim chili, Thai hot pepper, lemon drop pepper, jalapeno, ancho and, in the center, Purple Beauty. The California wonder grew very big indeed; that's a 10-1/2 inch dinner plate in the picture.
The Black Wonder peppers were fantastic. In spite of their unusual appearance, they were simply a nice mild, sweet bell pepper. We harvested about 30 peppers off of 4 plants, all big enough to stuff. And that's what we did.
I hadn't made stuffed peppers in a couple years, perhaps because my last attempt was not stellar. But this time, I got them so right that requests for more stuffed pepper dinners followed. Here's the easy and delicious recipe I used.
Easy Stuffed Peppers

Ingredients:
1 pound ground beef
1 cup uncooked brown rice
2 cups water
6 bell peppers
2 cups homemade tomato sauce
1 tablespoon Worcestershire sauce
1 clove garlic, minced
1 teaspoon basil
1 teaspoon oregano
1 teaspoon thyme
salt
pepper

Directions
Preheat oven to 350 degrees.


Put the rice and water in a saucepan and bring to a boil. Reduce heat, cover, and cook 20 minutes. (This partially cooks the brown rice).


In a skillet, brown the ground beef.


Prepare the peppers by slicing off the tops. Remove the seeds and membrane. (I like to use a melon scoop to clean them out efficiently).


Arrange the peppers in a baking dish.


In a bowl, mix together the browned meat, the partially cooked rice, 1 cup of tomato sauce, Worcestershire sauce, garlic, and spices. Divide the meat mixture among the peppers.


Pour the remaining cup of tomato sauce over the stuffed peppers.


Bake for about 1 hour in the preheated oven. Baste with sauce from the bottom of the baking dish. Peppers will be tender when finished.


Janice and Jim Leach have been gardening together for close to 30 years. They tend a backyard plot in downtown Ann Arbor, where they try to grow as many vegetables and other plants as possible. For the last four years, they've published gardening tips, photos and stories at their 20 Minute Garden website.