Posted on
Thu, Nov 24, 2011 : 12:35 p.m.
Pilgrim in the Garden: Growing your own food helps build thankfulness for the food system web
By Jim and Janice Leach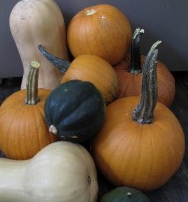 Janice Leach | Contributor
During the seven years we lived in Toronto, we happily celebrated two Thanksgivings each fall. Canadian Thanksgiving, which falls on the first Monday of October, opened the fall holiday season, and we followed it up in November by hosting our own American Thanksgiving dinner. Our exasperated then-6-year-old son noted, "This holiday is just about food!" Our guests and our family were fond enough of turkey and fixings that we enjoyed the meal, even if there were no presents involved.
Moving to Toronto to go to graduate school is the closest I've come to moving to a new land. In spite of being "just next door," the experience of relocating to Canada was chock-full of studies in cultural differences and national identity, but still nothing like the changes and surprises that must have awaited the pilgrims.
I tend to think of our pilgrims as already arrived in the New Land. In my mind, they are not travelers, but householders — people with meals to prepare, tables to fill and chairs to sit in.
More accurately, however, a pilgrim is someone on a pilgrimage, usually a long journey with spiritual or moral significance. In the neat way that global human experience overlaps, the history and practice of many religious traditions have included pilgrimages.
No where in my life am I more of a pilgrim than in the garden. Gardening is never a destination ("Look! A finished and perfect garden!") but an ongoing process. I'm always learning, trying to grow a new plant, moving something thats not thriving to another spot, attempting a different technique, becoming familiar with a particular weed or flower.
I encounter changes and surprises. A garden may not be a place of spiritual reflection for everyone; at the best times, however, our garden gives me the space to ponder the wonders of growing things and the mysteries of creation.
Living in a time and place when the basic human needs — food, clothing, shelter — can be met almost instantly, I find the garden to be one spot where I can get in touch with my inner pilgrim. Gardening slows time down. Nothing happens fast and, for the most part, nothing can be sped up to satisfy more quickly. It is what it is.
Sometimes when I'm out in the garden, I look around and imagine what if I were a settler and this was my food source, my cupboard? How would we eat? In the bounteous days of summer, I like to think we'd eat pretty well. We'd have a salad with all sorts of greens and lettuces, tomatoes, cucumbers, and cook some broccoli or green beans.
Could we get a whole meal out of the garden? We occasionally do and, more often, feel quite celebratory when we get at least half of our meal from our yard, like eggplant parmesan (our tomatoes, eggplant, garlic, peppers) or pesto (our basil, garlic). But we like our breads and grains and meat and cheese, and our limited space, time, and skills (and local laws) prevent us from completely feeding ourselves.
The truth of the matter is we don't need too. We live in the land of plenty and, although our resources are modest, they've never been inadequate for keeping our larder well stocked and our table holding a meal. We celebrate harvest at this time of year, even though we live well year-round.
Gardening reminds me that the simplest of human endeavors — sitting down for a meal together — is a long process that starts with soil and seed. Effort, if not mine, then someone's, combined with sun and rain and lots of time to result much later in the food I am blessed to enjoy.
Gardening as one on a journey gives me a frame to appreciate the web of relationships and systems that keep us fed. Gardening as a pilgrim helps me practice thankfulness.
Janice and Jim Leach tend a backyard plot in downtown Ann Arbor, where they try to grow as many vegetables and other plants as possible. For the last four years, they've published gardening tips, photos and stories at their 20 Minute Garden website.