Posted on
Thu, May 5, 2011 : 5:55 a.m.
Find what you need for your garden at local plant sales
By Monica Milla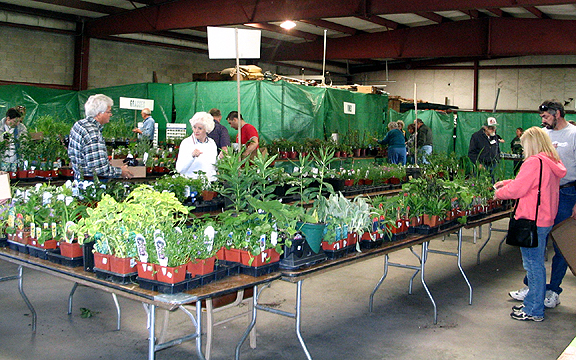 Monica Milla | Contributor
If you're looking to add some plants to your garden this year, stop by one of the many plant sales in our area, starting this Friday.
Plant sales are a great way to support a favorite organization, as well as add some color to your garden. Upcoming plant sales include:
Growing Hope Plant Sale
May 6, from 3 to 7 p.m. and May 7 and 21, from 10 a.m. to 4 p.m.
Growing Hope, 922 W. Michigan Ave., Ypsilanti
Sales offer vegetables, herbs, flowers, and raised bed kits. All proceeds benefit Growing Hope programming.
Matthaei Botanical Gardens & Nichols Arboretum Spring Plant Sales
Matthaei Botanical Gardens, 1800 N. Dixboro Road, Ann Arbor
Nichols Arboretum, 1600 Washington Heights, Ann Arbor
The Botanical Gardens is offering multiple sales this year, starting this weekend and running through early June:
Mother's Day Sale: May 7-8, 10 a.m. to 4:30 p.m., at Matthaei. Perennials for sun and shade in containers and terrace pots, plus annuals (grown and designed on-site) in hanging baskets and terrace pots.
Gateway Annuals Sale: May 14-15, 10 a.m. to 4:30 p.m., at Matthaei. Unique and often hard-to-find annuals, including some of the same varieties grown in Matthaei's Gateway Garden.
Kitchen Favorites Sale & Herbfest: May 21-22, 10 a.m. to 4:30 p.m., at Matthaei. Heirloom vegetables and herbs, with proceeds benefiting Cultivating Community, a University of Michigan student volunteer group. Plus, the Herb Study Group hosts its annual Herbfest on May 21, with herbal information, talks, refreshments, and marketplace with used books about herbs, herbal tea, and herbal edibles.
Peonies Galore Sale & Peony Festival: June 4-5, 10 a.m. to 4:30 p.m., at Nichols Arboretum. Antique and heirloom peonies, including some of the same varieties grown in the Peony Garden. The garden will be in full bloom, so don't forget to check it out!
Hidden Lake Gardens Plant Sale
May 7, 10 a.m. to 2 p.m.
Hidden Lake Gardens, 6214 Monroe Road (M-50), Tipton
Master gardeners will be available to help you choose from a wide variety of perennials, ferns, wildflowers, hosta, ornamental grasses, and a selection of trees and shrubs.
Saline Stone & Thistle Garden Club Perennial Plant Sale
May 14, 8 a.m. to noon
UAW Hall, 601 Woodland Drive, Saline
Call (734) 944-2195 or (734) 429-1107 for more information.
Michigan Dahlia Association Sale
May 21, 10 a.m. to 2 p.m.
Dexter Mill, 3515 Central St., Dexter
Both dahlia plants and tubers will be available.
Project Grow Heirloom Tomato, Pepper, and Basil Sale
May 21 and May 28, 8 a.m. to 2 p.m.
People's Food Co-Op, 216 N. 4th Ave., Ann Arbor
More than 50 varieties of heirloom tomatoes, peppers, and basils, grown locally and organically from seed.
If you know of a sale I'm missing, please leave the details in a comment!
Monica Milla, the Garden Faerie, is a master gardener volunteer, instructor, speaker, garden coach, and author of "Fun with Winter Seed Sowing."