Posted on
Wed, Dec 8, 2010 : 10:54 a.m.
Garden Faerie: Perfect poinsettias in 5 easy steps
By Monica Milla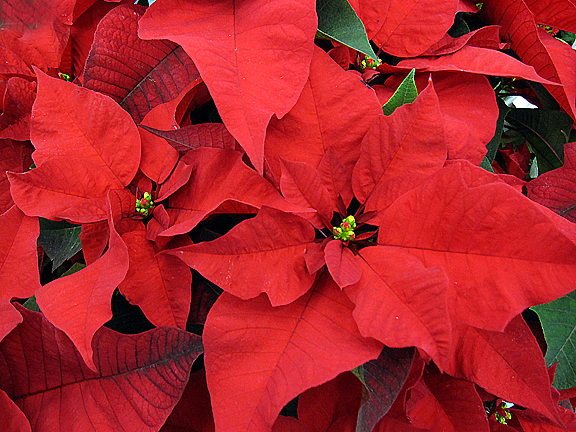 Monica Milla | Contributor
Poinsettias make any room look festive, and they are great gifts. You can keep them looking great by following five simple steps.
1. Cover your poinsettia when carrying it out of the store; its foliage is extremely sensitive to the cold. If any bracts wilt later, remove them.
2. Place your poinsettia in indirect light (not in sunny windows or under lights). Six hours of light each day is ideal.
3. Keep your poinsettia away from drafts, both warm and cold. (Do not set them near heating vents or registers, radiators, doors or windows.)
4. Keep your poinsettia cool. They prefer daytime temperatures between 60-70 degrees and nighttime temperatures around 55 degrees. High temperatures will shorten the plant's life. (No wonder they love my chilly 60-degree house!)
5. Let your poinsettia dry out between waterings. Check the soil daily, and only water when it feels dry. Poinsettias don't like to have "wet feet" (their roots like to dry out), so either remove the plant from the foil wrapping or poke drainage holes in the foil wrapping, and then place the pot in a saucer.

If you want to keep your the poinsettia after the holidays, start fertilizing it after the red bracts start to fade, and then follow these month-by-month poinsettia care tips and rebloom instructions from our friends at Michigan State University Extension.
Bracts and lips and flowers, oh my!

Monica Milla | Contributor
The large, showy red "petals" on poinsettias are not in fact flowers, but bracts. These bracts are modified leaves that form near the flowers and are different from the other leaves in color, texture, or size.
Poinsettias do have tiny flowers. Look really closely near the top of the red bracts and you'll see tiny red or yellow structures. The red parts are the flowers, and the yellow parts (as you can see in the photo to the left) are pollen. If the flowers are past bloom, you'll see either dried brown flowers or the green stems that once held the flowers before they dried and fell off.
The yellow/orange lip-shaped structures (in both photos) are nectar glands on the ovary that attract insects for pollination. The glands start off green and turn dark yellow as they develop. In the photo to the left, you can even see the nectar!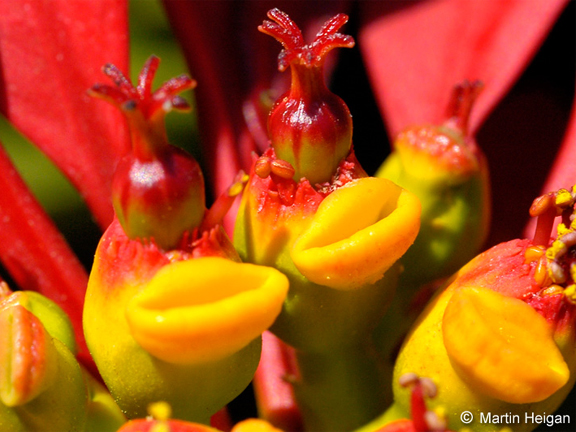 Photo by Martin Heigan
In the very magnified photo above (which looks like a scene with underwater aliens to me!), the red "tentacles" are the flowers coming up out of the bud.
Poinsettias are medium-sized shrubs native to western Mexico. There, they grow taller and less full than our greenhouse-grown plants. The naturally-growing ones also tend to flower without leaves.
Poinsettias are not poisonous!
Poinsettias are not poisonous. All parts of the plant have been studied extensively by Ohio State University, Children's Hospital in Pittsburgh, Carnegie Mellon University, and other organizations. Even if swallowed in great amounts, the worst that will happen is stomach irritation and throwing up. The sap (which is exposed only if fresh leaves are broken off) may cause minor skin irritation for people with sensitive skin.
Monica Milla, the Garden Faerie, is a master gardener volunteer, garden speaker, garden coach and author of "Fun with Winter Seed Sowing."