Posted on
Sat, Apr 23, 2011 : 6:10 a.m.
Potato Pledges and other ways to share the bounty of your garden
By Jim and Janice Leach
Ah, the lengths that some people will go to to promote gardening and fight hunger in their communities!
Last Saturday, I had a chance to witness some of these people of action up close when I volunteered to help with Project Grow's Potato Pledge, which took place in front of Downtown Home and Garden in Ann Arbor. The fun included a Pit Stop Area for distributing seed potatoes, as well as giant papier maché potatoes strolling through downtown and spreading the word.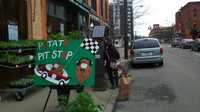 Photo courtesy of Lucas DiGia
The Potato Pledge launched last year when Project Grow teamed up with Downtown Home and Garden,
Food Gatherers,
and the
Interfaith Council for Peace and Justice
to distribute free seed potatoes to gardeners who would pledge to return a portion of their crop to Food Gatherers.
This year's Pit Stop theme encouraged drivers to pull over on Ashley Street to get their 2-pound bag of seed potatoes and growing instructions. Over 130 pounds of potatoes went home with gardeners who wanted to participate in the Potato Pledge.
The potato costume portion of the event included big potato heads, people wearing potatoes and big potatoes on poles. Our pro-gardening group walked around Main Street and the Farmers' Market. Of course, I ran into friends, like John the Chicken Guy, and Michael the Photographer, and Sara the University of Michigan student, because carrying a large papier maché potato on a stick or wearing a costume guarantees that I will see someone I know.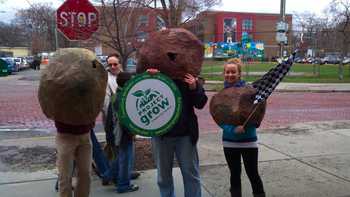 Photo courtesy of Lucas Digia
Taking part in the Potato Pledge was a lot of fun, and I rediscovered some universal truths too. For example, talking to strangers and being silly are easier if you are part of a group. Also, if you carry cute signs, wear costumes, or are friendly, most people will be happy to talk about gardening. Another fact was that parents with little kids in tow were more willing to take part, as one of the other volunteers pointed out. I don't know if people were encouraged to join by my willingness to share my story of potato failure last year, but I tried to explain that pledging to grow potatoes was a low-risk gardening effort.
If you missed out on the Potato Pledge, there are still opportunities to contribute gardening produce to programs that fight hunger. The Plant a Row for the Hungry project asks gardeners to set aside gardening space to grow vegetables to donate to food banks. Food Gatherers happily accepts surplus homegrown produce, even if it wasn't originally planted for donation.
After last year's unimpressive potato crop, I'm anxious to do a good job and reclaim my reputation. This year, I'm taking suggestions and following directions. One thing I love about gardening is having another chance each year to get better at it.
Janice and Jim Leach garden a backyard plot in downtown Ann Arbor and tend the website 20 Minute Garden.