Posted on
Tue, Nov 1, 2011 : 9:11 a.m.
How to turn a pumpkin into a homemade pumpkin pie
By Jim and Janice Leach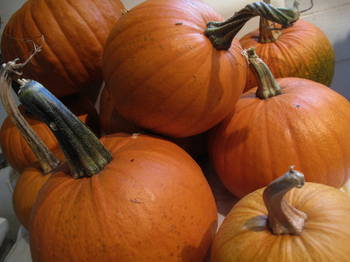 Jim Leach | Contributor
Are you tiring of candy season and longing instead for the spiced and subtly sweet flavor of that
Thanksgiving
dessert of choice? If you love
pumpkin pie
as much as my friend Chris, you might be interested in joining her grassroots campaign to make pumpkin pie the official dessert of Halloween. It makes good sense, too, because pumpkins and Halloween do go together — as long as we keep in mind the difference between jack-o'-lantern pumpkins and pie pumpkins.
For carving pumpkins, most people want large pumpkins. Smaller, sweeter "pie" pumpkins, however, are best for baking and cooking. When shopping for a pie pumpkin, look for one in the three- to eight-pound range.
This year, we grew Small Sugar Pumpkins, an heirloom variety from Seeds of Change. We started them from seeds outdoors directly in the soil, and once again, we were delighted watching the substantial vines and leaves grow and counting the many pumpkins they produced. Other popular pie pumpkin varieties include Baby Bear, Baby Pam and Sugar Treat.
Growing pumpkins is fun and easy. The plants make for an endlessly amusing topic for garden walks.
For the last two years, we've grown pumpkins along a fence, which has turned out better than we could have imagined. Pumpkin vines are strong and easily grip onto the support of the fence with just a little encouragement. That way, the pumpkins are kept off the ground so they develop nice and round with no soil contact spots.
For most of the growing season, our pumpkins were safe from the neighborhood squirrels, who had plenty of other stuff to eat. Come mid-October, however, these ravenous squirrels will eat anything so as soon as we noticed nibbling, we picked the remainder of our pumpkins — both fully orange and those still somewhat mottled orange and dark green — and brought them inside. Happily, the pumpkins stored inside finished turning and are all now completely orange.
Making a pie pumpkin into a pie is a multi-step process but not a particularly hard one. The result is a pumpkin pie that is superior, I will assert, to what can be purchased in a store or even made from canned pumpkin.
Roasting the pumpkin

The first step is roasting the pumpkin. Wash the outside well and scrub off any dirt. Slice the pumpkin in half with a large, sharp knife.
At this stage, I take the time to poke out all of the seeds because we enjoy roasting them too. The seeds can be quite easily prodded loose from the pulp and then soaked or rinsed clean. Recipes for roasting pumpkin seeds can be found here and here.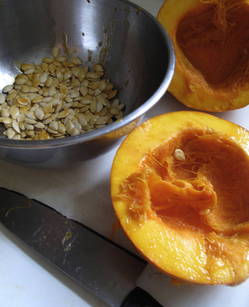 Janice Leach | Contributor
Then scoop out all of the stringy bits of pumpkin insides. I like using an ice cream scoop or kitchen scoop to do this task. A sharp edge makes the clean-out process easier.
Place the pumpkin cut-side down in a shallow roasting pan or glass dish and add enough water to have 1/2 inch in the pan. Bake in a 350 degree oven for about an hour. This is the technique I use for roasting most squash. It requires very little effort and attention. Others advocate microwaving or using a crock-pot, but I like oven-baking best.
When the baking is finished, allow the pumpkin to cool to near room temperature for easy handling. Then scrape out as much of the soft pumpkin as you can. To get a smooth texture, you can mash the pumpkin, or use a hand-blender, or pulse in a food processor. I like putting the pumpkin through the food mill.
Finally, the pie

Here's my favorite pumpkin pie recipe. It calls for 3 cups of homemade pumpkin puree and makes two 8-inch pumpkin pies or one larger pie. If you have more filling than fits in the pie(s), you can bake it separately in greased or cooking-sprayed ramekins or other glass dishes. Then you can sample your delicious homemade pie filling straight out of the oven while leaving the pumpkin pie intact for showing off.
Homemade Pumpkin Pie

Ready-to-fill unbaked pie crust
3 cups of homemade pumpkin puree, cooked and mashed
1 cup of sugar
1 teaspoon cinnamon
1/4 teaspoon freshly ground nutmeg
1/4 teaspoon freshly ground allspice
1/4 teaspoon freshly ground cloves
1/4 teaspoon ground ginger
1/4 teaspoon salt
3 eggs, beaten
1/2 teaspoon of vanilla extract
1-12 ounce can of evaporated milk

Combine ingredients and mix well using a whisk or hand blender. Filling may seem runny, but that's fine. Pour carefully into a prepared pie shell.

Bake in 400 degree oven for 50-60 minutes. Pie is done when a knife inserted into the custard comes out clean.
Some people claim that you can make a fine pumpkin pie out of any pumpkin. If I'm going to the effort of making a homemade pumpkin pie from scratch however, I will use a pie pumpkin because I know that works great.
I've heard that other squashes like acorn or butternut make perfectly good "pumpkin" pies. I'm not a fan of secret substitutes, however, since the unfortunate childhood incident wherein my dear grandmother tried to pass off liver as "just another cut of beef roast."
If you haven't grown your own pie pumpkins this year, you can find them at many groceries and at farmers' markets. You may consider growing a vine or two next year to make your own Halloween or Thanksgiving pumpkin pie.

Janice and Jim Leach have been gardening together for close to 30 years. They tend a backyard plot in downtown Ann Arbor, where they try to grow as many vegetables and other plants as possible. For the last four years, they've published gardening tips, photos and stories at their 20 Minute Garden website.