Posted on
Mon, Nov 22, 2010 : 6:05 a.m.
Refurbishing an old buffet creates a high end look for less
By Sarah Finks
Sarah Finks | Contributor
I have been looking for the perfect buffet for our house. It should be classic yet contemporary — oh, and, of course, reused. Here is what I found online that I liked.
Blue Chest: From Indulge Maison Decor.
And the photo at the top is what I was starting with.

First I took off all the hardware and soaked them in some white vinegar. A little rubbing and scrubbing and we had....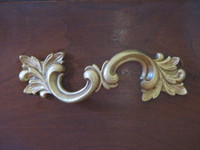 Sarah Finks | Contributor

I was so surprised. I had pretty much decided that I was going to need all new hardware. Who knew this is what was hiding under years of tarnish?
Next I dry brushed on one sample bottle of Benjamin Moore's Van Courtland Blue, and weathered the edges with some sandpaper. And we had....
Sarah Finks | Contributor

A little antiquing with Valspar's antiquing glaze, and I finished with two coats of Johnson Paste Wax.
Sarah Finks | Contributor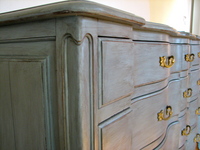 Sarah Finks | Contributor
Total cost: for me, free. I had the paint sample from trying to figure out wall colors, and I also had the antiquing glaze and paste wax. But if not...
Paint Sample: $3.99
Antiquing Glaze: $7.99
Paste Wax $8.99
Total: $20.97
Not too bad. What do you think? High end look for less?
To see more after pictures, click here.
Sarah Finks is a local mom and blogger trying to find order amongst the chaos of three small boys and a wonderful husband. Feel free to e-mail me at threeboys.home@gmail.com or check out my blog at threeboys-home.blogspot.com for more household tips.