home & garden:

Refurbishing an old wing chair creates a high end look for less

Posted on Mon, Nov 15, 2010 : 12:05 p.m.
Sarah Finks | Contributor
I have been crushing over the Chelsea wing chair from Williams- Sonoma Home lately. Since I have decided to use mostly reused furniture for our home makeover, I was feeling conflicted. Love the chair, want the chair, but I have professed to all of my readers that I will be using reused furniture.
What is a girl to do?
I checked out Craig's list and found two matching wing chairs. They were nothing special, but I liked the shape and thought they would look perfect in front of the fireplace. I ordered two slip covers, since I don't sew, and picked up antique nickel decorative nails at Joanne Fabrics. With the kids in bed, I sat down in front of a week's worth of Oprah and went to work.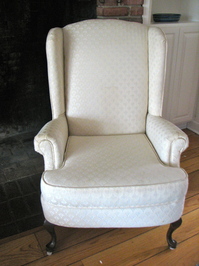 Sarah Finks | Contributor
Total Cost Per Chair:
$30 for chair
$10 decorative nails
$60 slip cover
$100 Total
You can also see the new paint color peeking out behind the chair. What do you think? Next on the list, finish the other chair, paint the walls and solve the great fireplace screen debacle. Stay tuned!
Thanks to Janell at Isabella & Max Rooms for the great inspiration!
If you would like to see more picture of how I made this chair, including more "after" shots, click here.