Posted on
Fri, Dec 24, 2010 : 7:30 a.m.
Flat? Semi-gloss? Satin? Choosing the right paint is about more than just the color
By Keith A. Paul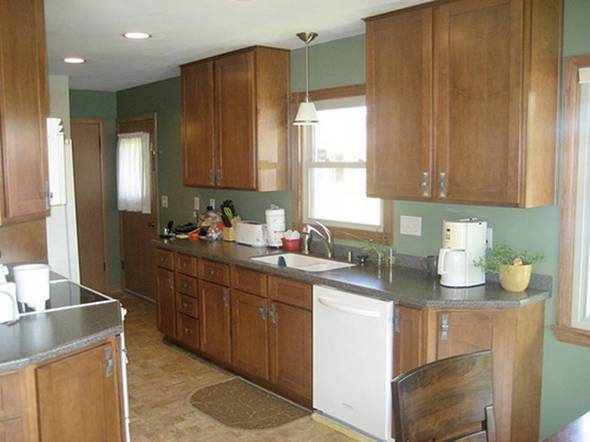 Photo by: modularkitchencabinets
I have some time off work, so I thought I would paint my living room and kitchen. They have very dark colors, and I want to paint with a lighter color. Do you have any suggestions on what kind of paint to use?
-Tammy, Belleville, Mich.
There are variables to consider when picking the right paint for your room. Keeping in mind how the room is used, interior paints can give a fresh new look. However, from a functionality standpoint, the paint is specifically formulated to provide scrub-ability, stain resistance, good dirt hiding ability, good coverage, spatter resistance and easy touch-ups.
In your kitchen, I would suggest that you use a satin or semi- gloss. Both of these are popular for their finish, but, most importantly, dirt will easily clean from the surface. However, when it comes time to repaint the walls, new paint may have trouble adhering to the old paint if the current finish is a semi-gloss or gloss finish. You could end up with a streaky finish or later have problems with it flaking off. You may have to take extra steps to prepare the wall like minor sanding or using a de-glosser.
There are a few steps required in order to properly prepare the walls before you re-paint them. If you are going over semi-gloss paint, there will be sanding involved, in which case always protect your eyes and lungs by wearing safety glasses and a dust mask (see the note below). Lightly sand with a pole sander and 200 grit sand-paper to scuff up the walls. This allows the new paint to adhere to the scuffed surface without peeling later. Wash the walls down using a damp cloth to remove any sanding dust. When that is done, apply the base primer.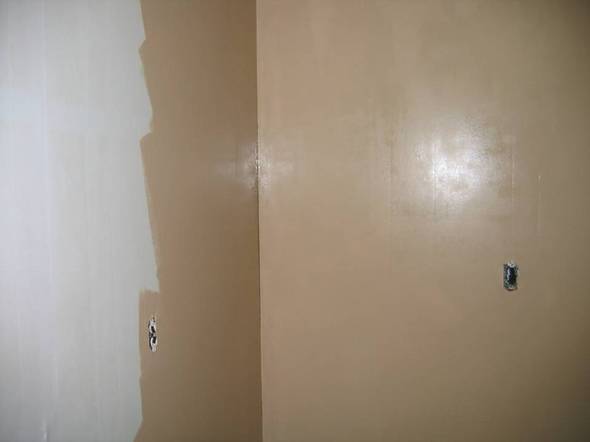 Photo by: butterflyfarmmanor
A useful tip: Tint the primer the color of the new paint; this step will help avoid applying additional coats of paint when painting over a dark shade. Read the primer label for drying time, and then you're ready to paint.
Note : If your home was built prior to 1978 then certain precautions have to be taken according to the new regulations from the EPA to help protect you from lead poisoning. Although, the EPA regulations apply only if you are not doing the work yourself or if you are receiving compensation for the job, you may want to read up on the new laws for your own safety protection. You can find out more about these safe lead practices by visiting the EPA website at www.epa.gov.
For your living room, I would suggest a satin finish, which is also known as eggshell or low luster. This finish has a slight shine. It is best for family rooms, kid's rooms and high-traffic hallways because it resists staining and scuffing and holds up well to cleaning. But the downside is it looks best on a smooth, well-prepared wall, since the shine will bring out imperfections.
Another popular paint finish for your living room is "flat" paint. It looks completely matte, with no shine. It is also one of my favorite paints because of the ability to hide many minor wall imperfections well. But beware, it's nearly impossible to clean. The challenge is that it tends not to hold up to heavy scrubbing. Rubbing with cleansers can remove the finish, leaving shiny spots.
Good luck on your project. With the right preparation it shouldn't take too long to complete, and you will be able to relax and enjoy it on a few of your days off.
Paul is a State of Michigan Licensed Builder. Paul serves as President and founding member of Nationally franchised HandyPro Handyman Service, servicing Washtenaw, Wayne and Oakland Counties. www.handypro.com. Listen to Paul every Saturday at 11 a.m. on "It's Your Home, Let's Talk About It" WAAM Talk 1600AM. Email questions or comments to kpaul@handypro.com.