Posted on
Fri, Feb 24, 2012 : 9 a.m.
Fixing a slow draining dishwasher is usually a simple task
By Keith A. Paul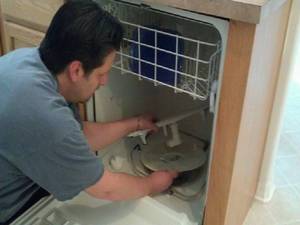 Photo by: Nicholas
Hi Keith, After I run the dishwasher, I notice quite a bit of water left in the bottom. It will drain but usually takes a couple of hours. Any suggestions before I call a repair company?

Thanks,

—Cindy R., Ann Arbor
Hi Cindy,
Commonly known as a "lazy man's" appliance, the dishwasher has become a highly efficient, computerized mechanical device, but who likes to clean dishes without one? When it breaks, a kitchen can become a nightmare with a highly stacked range of dirty dishes. The good news is that a slow draining dishwasher is a common problem that can be solved with a simple and non-technical repair, in most cases.
As with any appliance repair, be sure to turn off the electrical by unplugging it or turning it off at the breaker.
Clean the filter strainer.
First, remove the bottom dishwasher rack. Dishwasher models will vary, but there is a strainer or filter used to catch debris which needs to be cleaned. In some models the strainer looks like it's upside down and will have to be removed with a screwdriver, while others are right side up and easily removed just pulling it up and out. Some models also have a spray arm that will need to be removed by easily pulling it up and out.
Thoroughly clean the strainer with soap and water and replace. During this process you may notice food which has clogged, preventing the free flow of water. If so, chances are you have found the issue and your work is completed. If not, proceed to the following steps.
Check your waste hose.
The waste hose is where the dirty water drains from your dishwasher out to the sink or garbage disposal. Occasionally, the hose can get kinked or clogged. If the hose is not kinked, it is possibly clogged.
Handyman tip #1: If your waste hose is connected to your garbage disposal, be sure to run the garbage disposal to ensure your disposal is clear. Yes, I am speaking from experience as this happened to my dishwasher, and, after an hour of research, I realized this was a 10-second repair.
Handyman tip #2: Ensure the waste hose has a loop in it that looks like an upside down "J" trap. That means there is a point where the hose from the dishwasher is higher than the connection point to the sink or disposal. This will help prevent clogs and water being suctioned back into the dishwasher.
While the dishwasher rack is removed, take a cup of baking soda mix with warm water to make a paste and put into the bottom of the dishwasher. Next add a cup of vinegar to the bottom and let sit for approximately 10-15 minutes. The goal is to have the baking soda and vinegar fizz and bubble, releasing the debris. Then add a half gallon of very hot water. This step may have to be repeated.
These steps have repaired many dishwashers, but if your problems persist, it may be time to call a professional.
Paul is a State of Michigan Licensed Builder. Paul serves as President and founding member of Nationally franchised HandyPro Handyman Service, servicing Washtenaw, Wayne and Oakland Counties. www.handypro.com. Listen to Paul every Saturday at 11 a.m. on "It's Your Business, Make It Happen" WAAM Talk 1600AM. Email questions or comments to kpaul@handypro.com.