Posted on
Wed, Oct 6, 2010 : 6:01 a.m.
Garden Faerie: Get outside for fun activities including mulching, native plant seed collecting
By Monica Milla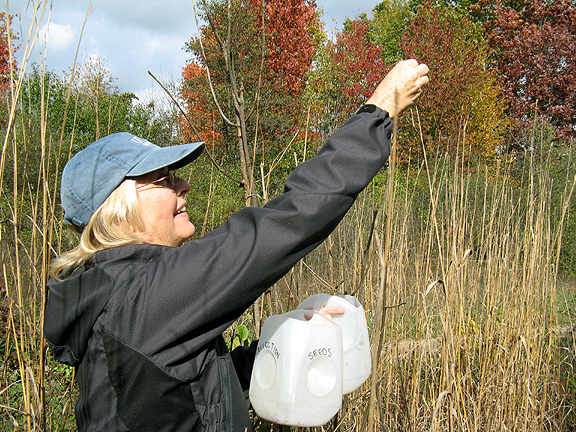 Photo by Ann Arbor Natural Area Preservation Staff
These two upcoming events look like a lot of fun:
Leaf mulching demonstration and lawnmower giveaway on Oct. 10
Native plant seed collection and planting workday on Oct. 23
Want to learn about mulching fall leaves as an alternative to raking and bagging? The City of Ann Arbor presents a leaf mulching demonstration and lawnmower giveaway this Sunday, October 10, from 1:00 to 2:30 p.m. at Wheeler Park (shelter at Summit St. near the train station).
Carpenter Brothers Hardware staff will demonstrate several ways to manage fall leaves including using mulching mowers and other types of rental yard equipment. Don't miss the drawing at 2:00 p.m. for a brand new (are you reading this in your booming announcer voice?) Toro Lawn-Boy mulching mower. To enter the drawing, you must be an Ann Arbor resident over the age of 16 (or accompanied by an adult), who does not work for the city. Must be present to win.
Cider, donuts, handouts, on-site informational displays, and a youth activity will also be on hand.
For more information on mulching leaves and the changes to Ann Arbor's fall leaf collection changes, click here.
Want to learn about native plants in our area? Ann Arbor Natural Area Preservation (NAP) is hosting a stewardship workday on collecting and planting native seeds on Saturday, October 23, from 10:00 a.m. to 3:00 p.m. at Swift Run and Mary Beth Doyle Parks (meet at Eddy Street, off of Verle, just north of Ellsworth and Platt).
In the morning, attendees will collect seeds at Swift Run Park. You do not need to be a botanist or master gardener to participate. You'll learn how easy it is to identify native wildflowers and grasses, and to collect and save their seeds. This is not precision work and it's easy for people of all ages.
After a lunch break (NAP provides snacks, but bring your own lunch), volunteers will plant the seeds collected that morning at Doyle Park. The seeds will sprout next spring and provide nectar and food to beneficial insects, birds, and butterflies.
I can vouch for the volunteer experience at NAP, as I've enjoyed participating in various NAP activities for six years. I briefly stewarded a native plant demonstration garden and I've done the annual frog and toad survey for many years. It was really fun learning to identify the frogs and toads in Michigan by their call. It's not as hard as it sounds, and NAP provides all the training. They also have bird and salamander surveys.
If you are interested in learning more about native plants, amphibians, birds, or ecological burns, check out other NAP events or phone NAP at 734-996-3266.
If you're looking for seed collection volunteer opportunities in Brighton, Pinckney, or Waterloo, check out these events of the Michigan State Park Stewardship Unit. I've had fun volunteering for them as well.
Monica Milla, the Garden Faerie, is a master gardener volunteer, garden speaker, garden coach and author of "Fun with Winter Seed Sowing."