Posted on
Thu, Jun 10, 2010 : 6 a.m.
Take a walk on the wild side: From whimsical to staid, garden tour offers something for everyone
By Janet Miller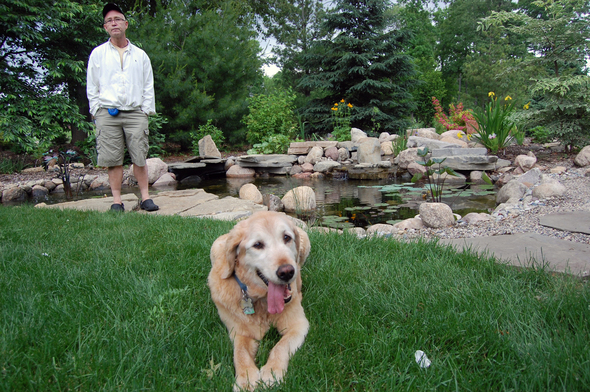 Janet Miller | For AnnArbor.com
David Baker
has combined natural with cultivated, arid with bog and traditional with fanciful to create gardens at his country home in Salem Township that have something for everyone.
There are gardens for meditation, gardens for hot colors and gardens for cool colors. There are acres of woodlands with native species. A babbling creek. A pond stocked with Koi fish and bordered with rare plantings. Art. And more. Much more.
Baker along with five other homeowners will open their gardens to the public on Saturday when the Ann Arbor Branch of the Woman's National Farm & Garden Association holds its 20th annual garden walk tour. The six private gardens along with the public Gaffield Children's Garden at Matthaei Botanical Gardens are part of this year's tour.
While Baker's sprawling and terraced gardens look well established, with multiple beds and thousands of plants, they've only been cultivated over the last four years (although Baker moved some of his specimens from his former residence).
There are trellises with climbing roses, including a massive but hardy William Baffin rose climber. There are climbing clematis and containers spilling with colorful annuals.
The pond is filled with hardy water lilies and is bordered with a showy Lady Slipper and a native Michigan orchid, commonly found in bogs. A rare variegated aralia scrub stands like a sentinel. "I don't know of another one in Ann Arbor," said Baker, who is a plant collector.
Janet Miller | For AnnArbor.com
There's a meditation garden close to the house, which includes hydrangeas (one of Baker's favorites), lots of hellebores (another Baker favorite) and framed by a rare (and whimsical) paper bark maple tree. And there's a dry garden for plants that need little water such as penstemons, lavender, salvia and sea kale.
The defined limestone paths wind throughout the garden, with colorful metal garden sculpture from Pennsylvania artist Inta Krombolz popping up around corners and bends. An outdoor fireplace and a screened house are also part of the landscape.
While some 2.5 acres of the property has been cultivated, 4.5 acres has remained as nature intended: Botanically intact with old-growth woods (including a 250-year-old black cherry tree, one of the biggest in southeast Michigan), more than a dozen species of native ferns and no invasive species such as garlic mustard and buckthorn. The woods have towering tulip trees, pagoda dogwoods and spice bushes.
"Ecologically, it's an important piece of property," Baker said.
The garden walk is an Ann Arbor tradition, said Irene Ball, chairwoman of this year's tour. It's also a way for the nonprofit to raise money for educational programs and projects. The walk is expected to attract about 1,000 people, she said.
Organizers of the annual garden walk look for variety when they select tour sites: This year's tour includes:
• A sustainable and low-maintenance stone garden that captures rain water for watering the plants.
• A cottage garden overlooking the Huron River with white arbors and a French iron gate.
• A native and natural garden that requires little care and is a sanctuary for wildlife.
• An eccentric and eclectic garden that shuns turf and features a two-level sandstone waterfall.
• A bold and beautiful garden set in the woods with 11 waterfalls that end in a pond.
• Baker's garden that combines cultivated beds with thousands of plants and unspoiled native landscape.
• Gaffield Children's Garden at the Matthaei Bontanical gardens includes musclewood trees, a shallow stream, a butterfly garden and a sensory garden.