Posted on
Fri, Nov 12, 2010 : 6 a.m.
The dangers of radon and how to make your home safer
By Keith A. Paul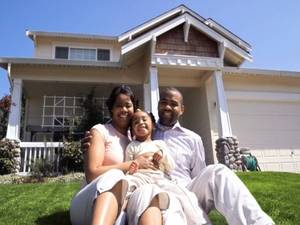 Photo by epa.gov
I heard of the dangers of radon in one's home, but how can I check to ensure my family is safe? My second question is, if we do have high levels, can it be removed?
-Sheri L. Ann Arbor, MI
Hi Sheri:
Thanks for your interest and great questions. Writing a column devoted to home improvement has many benefits to me; the most rewarding is when a question asked such as yours can possibly save the lives of other readers in our community.
Radon is colorless, odorless and a tasteless gas that comes from the natural radioactive decay of radium and uranium found in the ground beneath your home. According to the Environmental Protection Agency, Washtenaw County, along with other neighboring counties, has the highest potential for the existence of radon gas in Michigan. (map)
Since radon is a carcinogen and the leading cause of lung cancer among nonsmokers in America, the EPA suggests all homes should be tested for radon. Radon levels can be tested by either using a "do-it-yourself" kit or employing professional radon testing services. Radon is measured in terms of picocuries per liter of air or (pCi/l). If your home has radon levels higher than 4 pCi/l, the EPA recommends that you take action to lower the levels.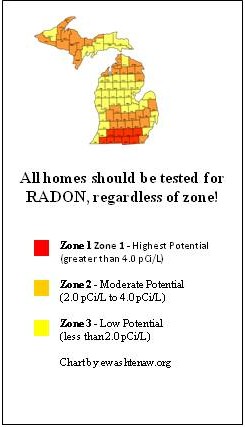 Chart by ewashtenaw.org
If you choose to be a "handyman" and test the levels yourself, follow the instructions carefully to ensure accurate measurements.
Angie Parsons, environmental educator for Washtenaw County Environmental Health, says, "This is one of the ways we can control the potential of cancer. We have two types of home radon level tests — short-term ($10) or long term ($20) radon test level kit."
The tests are available at 705 N. Zeeb Road in Scio Township.
Parsons suggests that for best results, test in the winter while the home is in "closed conditions," where the doors and windows are closed. Visit ewashtenaw.org for more information.
Mathew W. Koche, president of Mold Quest International in Canton, whose company offers professional radon testing services, advises homeowners retest any home that is close to the danger level of 4 pCi/l, because radon is not constant.
"We have seen higher levels in Washtenaw County, but the good news is that there are procedures to help lower levels of radon in homes." Koche says.
If your home has elevated radon levels, there are relatively inexpensive ways to lower the radon levels. Lowering the levels of radon, called radon "mitigation," can be accomplished by sealing the cracks and crevices in your basement's foundation. There are professional Radon mitigation contractors who can assist you. They can be found at the National Environmental Health Association's website, www.radongas.org.
One of the methods called "sub slab depressurization" has proven to be effective. It lowers the levels by installing a vent pipe through the basement to the exterior of the house, thus drawing out the radon. According to the EPA, some radon reduction methods can reduce the radon levels in your home by up to 99 percent.
Radon is a serious health risk, but can be controlled relatively inexpensively. Why not test it? I plan to in my home.
Keith Paul is a State of Michigan Licensed Builder. Paul serves as President and founding member of Nationally franchised HandyPro Handyman Service, servicing Washtenaw, Wayne and Oakland Counties (www.handypro.com). Listen to Keith Paul every Saturday at 11 a.m. on "It's Your Home, Let's Talk About It" WAAM Talk 1600AM. Email questions or comments to kpaul@handypro.com.