Lie to Your Cats About Santa
The inside buzz on the Ann Arbor Backyard Beekeepers
Posted on Mon, May 17, 2010 : 9 a.m.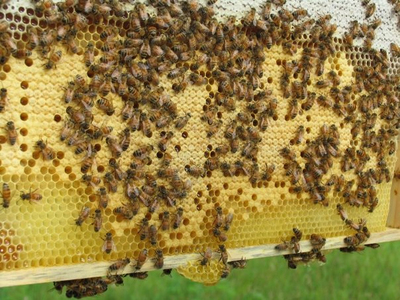 Honey Bees | Photo courtesy of Maggie Smith
Winn Harless caught 24 swarms of bees last year.
"Three in one day!" he growls.
He fields phone calls from frantic homeowners with swarms clinging to trees, fences and patio furniture. Harless, who's in his 60s or 70s, jumps in his pickup and races to the scene dressed in jeans and a button-down shirt, which he tucks tightly into his pants.
At the scene he lays down a white sheet and a portable hive, then uses a bucket on a long metal pole to dislodge honeycomb and thousands of bees. The process takes a little while. Harless estimates that most of his swarms weigh upwards of four pounds. That's around 18,000 bees.
"It's tough to get people to take pictures for me," he tells a meeting of the Ann Arbor Backyard Beekeepers in a classroom at the Matthaei Botanical Gardens.
The Ann Arbor Backyard Beekeepers (A2B2) is an informal group of area residents interested in tending bees in their backyards. They meet once a month to discuss honeybees, their survivability, habitat and trade tips on how to raise healthy hives. They drop terms like nuke and talk about after swarms and virgin queens. It's fascinating and a little overwhelming.
Raising bees seems like a strange and potentially painful hobby. Whatever happened to getting an exotic pet like a ferret or a giant snake?
MY RESEARCH PARAGRAPH! Honeybees are an essential part of our lives, pollinating somewhere in the neighborhood of 80 percent of our flowering crops. In recent years, honeybee populations have been on the decline. In 2009, the U.S. Agricultural Research Service reported that one-third of bees in the United States didn't survive the winter. Some researchers have pointed to Colony Collapse Disorder (CCD) while others have attributed losses to pesticides and other environmental factors. Amateur beekeepers like the members of the A2B2 are getting involved, taking part in a fun hobby but also providing stable homes for these hardworking insects and in the end helping us all stay alive.
WHAT OTHER RESEARCH DID RICH DO FOR THIS PIECE?
The A2B2 is an informal group that doesn't keep minutes or elect a president or a recording secretary. Richard Mendel is the ad hoc leader, maintaining an email list for updates and helping organize the group, but it's a very relaxed environment designed for local beekeeping enthusiasts to share information and ideas. On this evening, Mendel invited Harless to speak to the group about swarms and swarm catching. We eat up every word.

A swarm occurs when a queen abandons a colony with a group of bees searching for a new home, usually leaving behind a new queen. It can be a scary form of reproduction for homeowners who look out their back windows at a teeming mass of buzzing bees in their tree. Swarms generally don't stay in one place too long and individuals like Harless are eager to drive all over the place capturing these vagabond bees.
In the classroom, Harless narrates slide after slide of his swarming adventures. In one image, he's prodding a mass of yellow and black dots in a tree with a big black bucket. In another, he's dumping a pail full of bees onto a wooden hive. All the while, he's dressed in jeans, a button-down and a baseball cap. Harless isn't too worried about being stung.
"Their guts are full of honey, they don't have a home to defend and they're reluctant to fly," says Harless. "It's probably the gentlest you'll see them."
Harless spins yarns about cutting down tree limbs to catch swarms, mocks people who fear a little bee sting and keeps referencing a man named Richard Wieske (pronounced "whiskey"). Bee people have the coolest names!
At the back of the room sits the president of the Southeastern Michigan Beekeepers Association (SEMBA) Roger Sutherland. Sutherland is an older gentleman with pure white hair and every time he speaks, he sounds like a professor. SEMBA is one of the larger bee-related organizations in the area and Sutherland is a fixture at A2B2 meetings. Today, Harless is wearing a baseball hat that reads "SEMBA The place to bee!" They've got a sense of humor, too.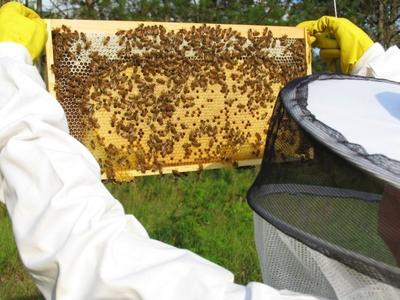 Backyard beekeeping | Photo courtesy of Maggie Smith
Together, Harless and Sutherland trade stories about swarms, folding in tips on keeping healthy bees in the process. Many swarms are transported to personal hives where they are raised, given to or sold to other bee enthusiasts. On the surface it seems like a money thing, but Harless seems a lot more interested in the genetics of the operation. Capturing different strains of bees makes him giddy.
A2B2 plans to travel to an abandoned tool shed in Saline for the next meeting to study and capture a feral hive of bees. Everyone seems pretty excited about the opportunity to see wild bees in a natural habitat. The group seems like the perfect place for people interested in beekeeping to make some good contacts.
Anyone interested in checking out the A2B2 should contact Richard Mendel at 734-660-8621 or email him at brescue@att.net. He promises not to flood your inbox.
Special thanks to local beekeeper Maggie Smith who turned me on to the existence of Ann Arbor beekeepers last year when she decided to raise her own hives at home. Maggie now has a few hives of healthy bees at her home in Ann Arbor. One time she even let me wear one of her beekeeper suits to check on her progress. Even covered nearly head to toe, I was still afraid of getting stung. Somewhere, Winn Harless just shook his head in shame.

(Richard Retyi doesn't keep bees, but he's seen "Candyman" like eight times. If you have a neat hobby or group that you belong to and you don't mind him sitting in back and learning, email him at richretyi@gmail.com. It's summertime. Let's all hang out! Oh, read more of his stuff here.)