The Permablog - The Dervaes Family
Posted on Sat, Mar 27, 2010 : 1:54 p.m.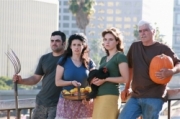 "With so much of our modern dialogue turning toward going green, alternative energy and sustainability, very few of us have stopped to think, 'What does sustainability actually look like in practice?'"
That's a question I asked at the end of my very first Permaculture blog post here on AnnArbor.com. Since then, I've seen hundreds, if not thousands of examples of folks all over the world utilizing permaculture design methods in food, water, shelter, energy and transportation. One of my absolute favorites, and awe inspiring stories, is of the Dervaes family from Pasadena, Calif.
Jules Dervaes was a U.S transplant working as a beekeeper in New Zealand during the early 1970's. When he moved back to the states in 1975 to raise his family, he began to shudder at the prospects of corporations, scientists and factory farms genetically modifying his children's food. Never one to sit back and "digest" unacceptable environmental and health practices, Jules took action. What's most surprising is where this eco-dad surrounded by urban sprawl chose to act: his own yard.
In 1985 he started growing his family's food, organically, on their 1/5th of an acre suburban plot. What started out as a few vegetable beds has turned into something you simply must see to believe.
The video above is a pretty remarkable piece and a nice example of mainstream media getting a great story right. That's probably a whole other conversation though.
The family is involved in so much, it's almost difficult to process in one sitting. Right after I watched this video for the first time, I screamed for Jessica to come sit next to me in front of the computer.
"THIS!" I said, "is what I want to do with my life!"
It was the first time I fully internalized and understood what sustainability looked like, in practice. There are all kinds of new and exciting words for sustainability these days; resiliency, net-zero, carbon neutral, etc. There will be more cool words for it in the future too. No matter what you call it, when you see it, you know it.
I really encourage you to check out more on the Dervaes family. There are tons more videos on Youtube about them. You can easily spend a good hour on their amazing website as well:
There are so many lessons to be learned from this revolutionary family. I for one, plan on staying tuned.