Posted on
Wed, Oct 6, 2010 : 3 p.m.
Spruce up your fall table with fun and easy placecard holders
By Catherine Thursby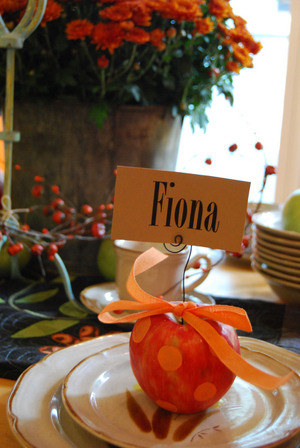 Photos by Catherine Thursby
This time of year I start spending more time indoors with family and friends. The drop in temperatures make me think of cozy activities that revolve around socializing!
Since the social hub is usually around the table, my focus is to make fun tabletop arrangements with items found in or around my home that go with a theme. All you need is a little ingenuity, and you have yourself a stylish little placecard with very little effort and time expended.
How about making one out of an apple? Simply paint little dots on your apple with acrylic paints, make a little coil out of wire , poke wire onto the top, add ribbon, and a printed card from your computer, and you have yourself a simple, charming table piece.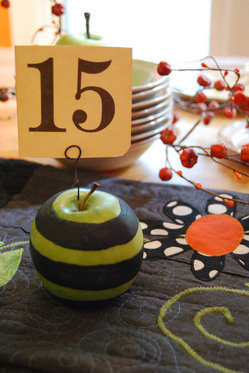 You can also use vintage flash cards , stamps or print out numbers to just mark tables. Don't be afraid to paint the lines or dots--you do not have to be an expert. The beauty of the paint is that it just wipes off with water should you make a mistake and need to re-do a spot.
Or, if painting intimidates you, just add a cute little ribbon with no paint at all! You could even wrap up a caramel apple like this and use to mark a place at your get together or child's birthday party.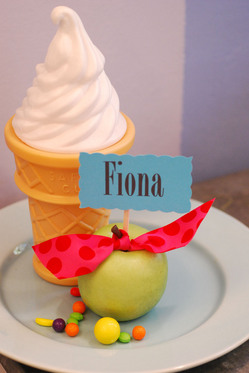 How about making cute little inexpensive place cards out of rubberband balls found at your office supply store? Super cute for a birthday party: just insert a chopstick, add a number and ribbon, and voila! Something colorful and fun that could double as an inexpensive bouncy ball party favor.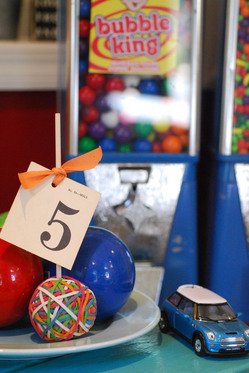 Maybe you're more into the rustic and natural. Rocks collected from the beach make great table top arrangements. Simply wrap with wire add a printed name tag using a wild west font found on your computer and you have a perfectly simple addition to your table on the quick.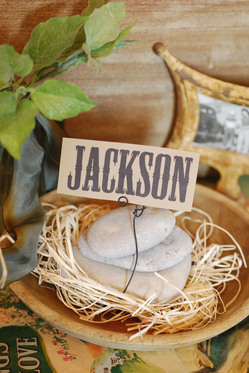 Maybe your get togethers revolve around a sewing circle or knitting group. You can make a charming little card out of thread spools and vintage buttons.
When it gets closer to the Holidays, you might like to get a little more involved and make your place cards do double duty. After they are done marking their spot, they can become a sweet little take-home gift.
Simply find inexpensive fruit ornaments from your craft store, coat them with glue, roll in glass glitter, add a ribbon and tag, and voila! a charming little treat.
So next time you'd like to make an interesting marker for your tables, know that you don't have to look too far to find things to use. Most of them are right at your fingertips and require very little effort to make a very memorable impression. Catherine Thursby is the owner of Red Shoes, a home goods store in downtown Ann Arbor, and can be reached by e-mail.