Posted on
Fri, Dec 23, 2011 : 10 a.m.
These tools and tips are essential for the office
By Keith A. Paul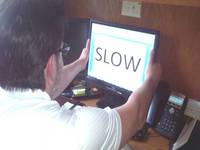 Photo by: Nicholas Paul
Hi Keith, I've been a contractor for over 15 years and am just now getting into the digital age. I hired a friend to build a website. Now I've been using my PC computer to store all my customer information and financials. Lately it has been running a little slow. As a fellow business owner, what can you suggest?

—Joe M., Dexter
Dear Joe,

Welcome to the world of websites, emails, databases and the ongoing challenge of making sure the "tools" at the office are running in tip-top shape. I am not a trained computer expert, nor do I pretend to be one. Although through the years of running support for computers at the office, (currently nine!), I've learned a few tricks of the trade which may help you with your digital problems. (I bet many of our readers will add helpful suggestions as well, hint hint.)
Besides regular backups, antivirus protection is perhaps one of the most important tools against protecting your data. In today's cyber space world there are large amounts of viruses, spyware, and malware, that can infiltrate your computer. From email to web searching, they can find a way to track your every move, slow your computer's performance down or worse —damage your computer altogether.
The best antivirus and spyware programs that we have used at our office are AVG Free and Malwarebytes. Both are relatively easy to download, and these programs will scan your computer to locate and rid it of the latest spyware and malicious viruses. Once loaded, be sure to set the program to "update" and "scan" your computer daily, because new viruses are created everyday by hackers.
Most spywares are self-installed programs that attach themselves to your computer via "cookies," which track and gather information, such as your clicks, visited websites and yes, they have been known to capture passwords. The program which has helped protect us is Spybot. This program is an antispyware software protection against "adware" and other unwelcomed nuisances. Similarly to antivirus software, this too should be updated on a daily basis and a daily scan of your computer performed.
Check the size of your RAM or Random Access Memory. RAM is a type of data storage which allows you to have multiple projects going on your computer simultaneously. The number of your programs and their size can slow your computers speed. This is when I call "Dr. Don," our local computer expert, and listen to his advice on when to install additional RAM. The cost is so inexpensive that if a computer's speed needs to be increased at our company, the installation is done without my approval. And that is a rarity at our company.
Another easy task to complete that will help improve your computer's performance is a Defrag. Since much of the data stored on your computer's hard drive is scattered, you must perform a regular Disk Defragmenter or commonly known as Drefrag. Defrag is a Windows utility which optimizes your computer speed by consolidating and organizing these files. (Can be found in your "Control Panel").
Finally, be sure that your hard drive has an appropriate amount of space. Today's software, though efficient, tends to take a large amount of space on your hard drive. And if your hard drive is full, your computer will run slow as well.
Enjoy the many uses of computer technology and continue to use it as a tool to be more efficient, productive and offer better service than your competition. After all, isn't that what a tool is supposed to accomplish?
Paul is a State of Michigan Licensed Builder. Paul serves as President and founding member of Nationally franchised HandyPro Handyman Service, servicing Washtenaw, Wayne and Oakland Counties. www.handypro.com. Listen to Paul every Saturday at 11 a.m. on "It's Your Business, Make It Happen" WAAM Talk 1600AM. Email questions or comments to kpaul@handypro.com.