Posted on
Fri, Dec 31, 2010 : 11 a.m.
Top 5 home improvement products and tools Santa forgot to bring you this year
By Keith A. Paul
I'm an avid "Do It Yourselfer" and always looking for new and improved tools and home improvement products. I plan to remodel my bathroom in 2011, anything new in the market?
-David Z., Pittsfield Township
As technology increases, so does the innovation for home improvement tools and remodeling products. Since we have 14 technicians at our company, I am privileged enough to be able to hear about the "newest, latest and greatest" in our industry, or as we call it, "the big boys and girls toys." I believe that one or more of these products maybe helpful when you design, build and create a masterpiece bathroom, perhaps with less effort and a shorter amount of time.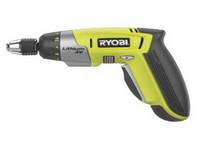 Photo courtesy of amazon.com
#5 Ryobi HP41LK 4 Volt Lithium-Ion Screwdriver: This is a power pistol grip light weight drill. Don't let the small size fool you; I have used it in tough carpentry situations such as to build shelves and exterior pressure treated wood, etc. It includes a LED light which works well to illuminate the work area, especially in tight, dimly lit spaces. The 1/4-inch speedload+ quick-connect chuck works with all speedload+ accessories and is the fastest, most convenient way to change bits. A 12-position clutch allows users to adjust the torque to match a variety of applications. In addition to these great features, the 4v screwdriver comes equipped with a six-piece bit set with bit holder and tool bag to organize the screwdriver and accessories. (My father received this drill from Santa Claus this year and loves it.)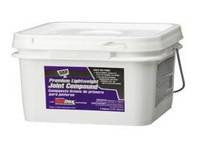 Photo courtesy of amazon.com
#4 DAP 2-Gallon Premium Lightweight Joint Compound with DryDex Dry Time Indicator: Perfect for the DIY'er who wants to complete that drywall install or repair in a flash. If you start sanding too early after you have applied the drywall compound, it could be damaged, and you'll have to start over, but not with this product. It has a visual time indicator that goes on pink and dries white when it is time to reapply or lightly sand. The de-aired formula eliminates pin hole bubbles for an ultra smooth finish. It comes in an easy-to-use square container and is for interior use.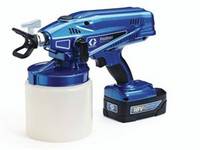 Photo courtesy of builderonline.com
#3 Sherwin-Williams ProShot - Cordless airless sprayer. $449: Although this maybe a little overkill for your bathroom and a bit pricey for one small job, I wanted to include this toy for the readers. This lithium ion battery sprayer is a must-have if you enjoy painting or varnishing. We have used it for fences, decks, garages and exteriors of homes. It's also a great painting tool for paneled interior doors. Since it is so versatile, it offers quick priming and easy cleanup. It paints a quart at a time — not the best for very large projects, but it definitely cuts down on paint time and clean-up for the small- to medium-size jobs. It has a quick charge and comes with an extra battery so that you are never without power. You can also use Sherwin Williams color sampling jars to test a variety of colors before you select the permanent color for your project.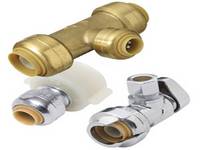 Photo courtesy of amazon.com
#2 Sharkbite plumbing fittings: Tired of painfully sweating copper only to have it leak after the water system has been turned back on and pressurized? No longer with Sharkbite supply fittings! And yes, there are Sharkbite stop valves for those quick valve replacements on the market as well. SharkBite brings the convenience of push-fit technology to the final phase of the plumbing system with no soldering, clamps or glue - just cut, push, done. For you DIY'ers, they are ideal for small repairs because, though the cost of the fittings are more expensive than those of standard copper fittings, they tend to be a lot less than that of a plumbing repair service.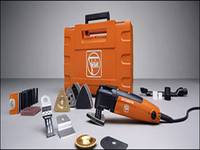 Photo courtesy of www.themultimastersystem.com
#1 The FEIN MultiMaster: Recommended by one of our technicians and perhaps the best tool gift from Santa in Christmas 2009, this multi tool will eliminate many of the tools that you have in your tool chest. The photo includes the professional versions which consists of most accessories and are only available to purchase online. Other hobby versions can be purchased at your local hardware store. I love this tool because of the versatility. Whether I'm cutting molding, grout, copper, drywall or screws, this tool can do it all. It is especially helpful in tight situations where most tools would be incapable or limited in their range of operation. This all-round package gives you the professional tools and accessories that you need to take on a wide range of hobbies, interior fittings, and renovation projects. Included also is the Quick IN rapid clamping system that lets you change out accessories quickly while you're on the job, and a sturdy plastic case.
Have you used a useful and unique tool? Let's share it. Comment on this article and copy the link into the comments section and lets share it among the readers.
Paul is a State of Michigan Licensed Builder. Paul serves as President and founding member of Nationally franchised HandyPro Handyman Service, servicing Washtenaw, Wayne and Oakland Counties. www.handypro.com. Listen to Paul every Saturday at 11 a.m. on "It's Your Home, Let's Talk About It" WAAM Talk 1600AM. Email questions or comments to kpaul@handypro.com.