Marcia Lyon's Creating Spaces
Track home modified to suit empty-nesters
Posted on Thu, May 27, 2010 : 8:39 a.m.
It's amazing what we can adapt to in our personal habits when we feel that there is no choice. If a master bathroom is small, usually one partner uses the 'second' bath. If traffic is chaotic with lots of congestion, we seem to deal with it.
It's only when some remodeling project becomes mandatory that we stop to study those 'inconveniences' and poor traffic patterns.
PROBLEM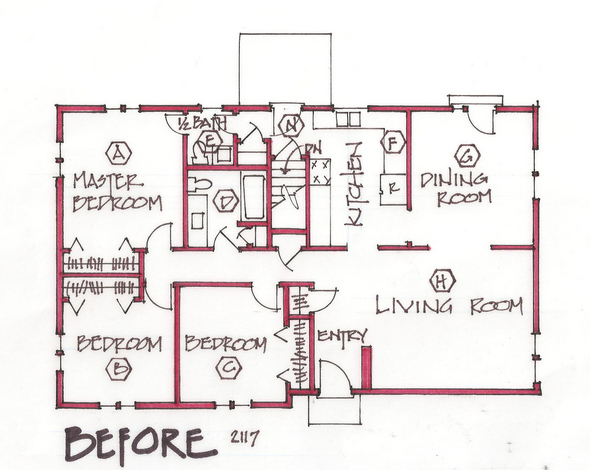 This ranch home was typical of its era, with three modest bedrooms (A, B, C) and one (D) and a half (E) baths. This plan worked in the '1950s and '60s, but now we want more luxury in the master bedroom and bath.
Naturally, a young couple planning a family would not be willing to give up a bedroom (even if it is small) for more master luxury, but lots of couples without children or empty-nesters are first in line to obliterate the extra bedroom for more space for themselves.
The balance of this home, kitchen (F), dining room (G) and living room (H) were fine for these empty-nesters. They wanted better access and use of the outdoors, a place for an office, an eat-in kitchen (if possible), and a dedicated space for scrapbooking that is not in the basement, and of course, the luxury of that master suite. On top of that, bringing the laundry up from the basement would be a dream come true.
Like most homeowners, they were on a limited budget, but were realistic that new bathrooms cost money.
SOLUTION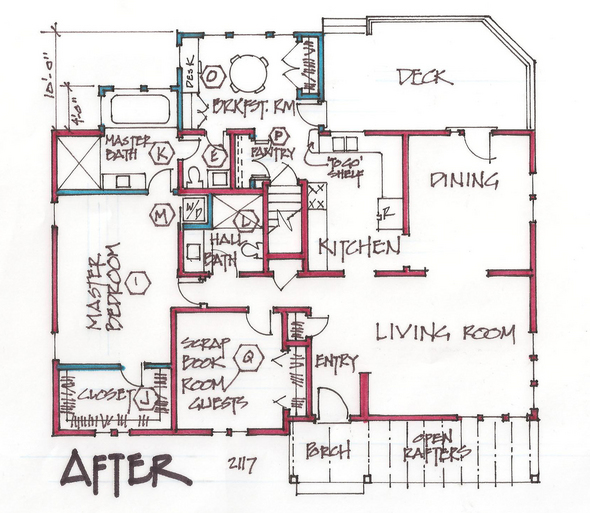 Two bedrooms (A & B) would be easily combined to create a master bedroom (I), but that still didn't provide enough room for a new master bath and closet. The closet (J) was created by claiming about seven feet on the front.
The master bathroom (K) started with the back six feet on the space, and a four foot bump-out for a whirlpool tub. A vanity was added, and the toilet in the ½ bath (E) is used for both the master and the ½ bath.
The hall bath (D) was reconfigured, replacing the tub with a shower, and recessing a stack washer/dryer (M) behind a pocket door in the master bedroom.
The tiny back entry was greatly improved when we also added 10 feet for a room that enlarges the back entry and adds a coat closet; a brightly lit breakfast room; (O) a built-in desk and storage closet. We've also got a "To Go" shelf adjacent to the kitchen. The best part of this reorganization is the large closet style pantry (P), complete with a door-activated light switch.
The remaining bedroom (Q) is just perfect for the scrapbook room, and the day bed in it makes it double as a guest room.