Posted on
Wed, Feb 1, 2012 : 3:38 p.m.
Two narrow additions to Ann Arbor home mean big gains for homeowners
By Marcia Lyon
Traffic patterns are not always considered in standard builder plans, which the majority of our homes are built from. Little has changed in the floor plans for years.
Traffic issues have changed since we now bring in and take out more "stuff." We also have a different relationship with the outdoors since we cook and entertain more often outside.
It would be great if these issues would be addressed in new housing. With existing housing, we can remodel to update and customize.
PROBLEM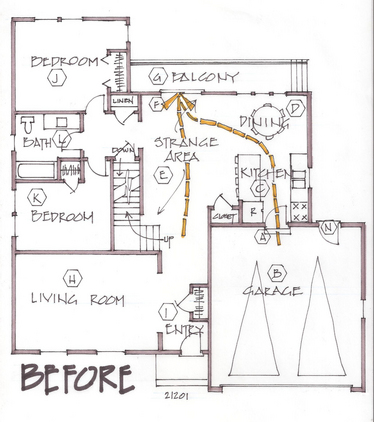 The owners of this Ann Arbor home were fed up with the door (A) from the garage (B), which funnels traffic right through the alley kitchen (C). Since there is no closet close by, either the kitchen counters or the dining table (D) get dumped on regularly.
Then there is this strange area (E) which was not suitable for furniture since the access (F) to the balcony (G) cuts right through.
A lonely living room (H) is adjacent to the front entry (I). Since it is remote and has no amenities, it is not used.
Two small bedrooms (J & K) and a standard hall bath (L) complete the first floor plan. Bedroom (K) is not furnished and is just used as a junk room. Upstairs (not shown) has a spacious master suite and another bedroom and hall bath.
The desire for a suitable living area and a good, family oriented kitchen initiated this remodeling. The empty nester homeowners offered to sacrifice one or both of the first floor bedrooms in order to add space.
SOLUTION
I felt that it would be a good idea to keep (and improve) one bedroom on the first floor (J) and use it as a guest room. The other bedroom (K) most certainly could be sacrificed because it is simply too small for a decent bedroom.
We decided to add a modest amount of space on two sides (M) of the kitchen area. The door from the garage (A) was eliminated and the other door in the garage (N) was raised up to be used to access the new family entry (O).
A wonderful bonus was the laundry room (P) that appeared. It is close to the kitchen and convenient to store all of the cleaning products. A separate laundry room conceals the machine sounds.

The new kitchen (Q) is expanded from its original location. The dining area (R) has room to expand. The new central door (S) takes traffic to the new deck (T). Now there is room for some soft seating (U) in the kitchen area and a double closet style pantry (V) consumes some wasted space by the stairway.

Notice where the new windows are placed — they provide natural light to all areas.

A new closet (W) is built in the new space, increasing floor space in the guest room (J).

Not everyone wants every activity to happen in the kitchen. These homeowners wanted a separate family room (X) for television watching. The smallest and most useless bedroom (K) was opened up into the family room to create a library nook (Y).


Marcia Lyon is a professional remodeling designer and freelance writer, producing projects locally and several other areas across the U.S. and Canada. Her new book on remodeling design, "The Essential Planner for Home Remodeling," is available at www.creatingspaces.net. You may contact her at Marcia@creatingspaces.net or at 515-991-8880.